A winter holiday in the Ocho Rios area of Jamaica is guaranteed to be a delight.  While it is one of the busier areas of the island, it has many beautiful beaches, great restaurants, non-stop shopping and recreation, and it is home what rates as one of the most intriguing luxury villas available. The Fleming Villa at Golden Eye is a five-bedroom property that is the former residence of Ian Fleming, the world-famous author and creator of James Bond.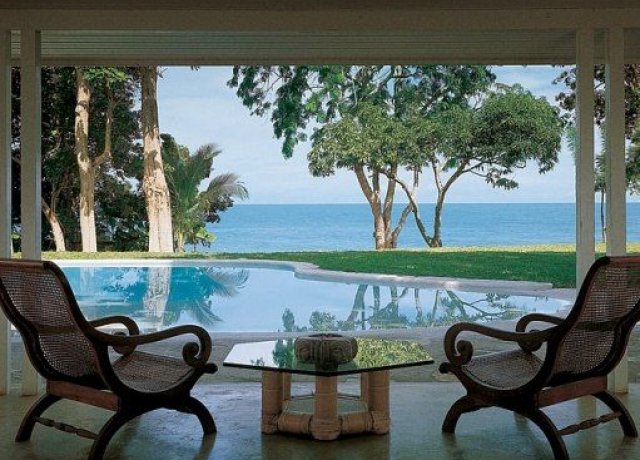 The Birthplace of 007
In fact, this luxury villa is thought to be where the author first created the now globally recognized super spy, and this makes it one of the few luxury villas in Jamaica that might also prove an ideal writer's retreat or group getaway destination for fans of the writer's work.
The villa is designed to offer a comprehensive answer to the need for a holiday. While it ranks as one of the largest luxury villas, it is not the size and privacy it affords that make it a perfect vacation spot. There are also many stunning amenities, as well as a full household staff.
Visitors to luxury villas often expect grounds crews, pool teams, and housekeeping staff (including a laundress), but this gorgeous villa also provides you with private butler, and a chef to prepare one meal daily. Though you will find yourself wandering to the long list of world-class restaurants in every direction, it is also remarkably appealing to know that one of your daily meals is served by a professional and prepared by a chef!
As part of a stay, visitors to The Fleming Villa are also welcome to use all of the facilities and amenities of the GoldenEye complex. This includes enjoying meals at the onsite restaurant, sipping artisan cocktails at the Bizot Bar, or taking one of the many beauty treatments at the spa. There is also a long list of sporting activities available, including tennis, bike rentals (no charge), water sports, and more.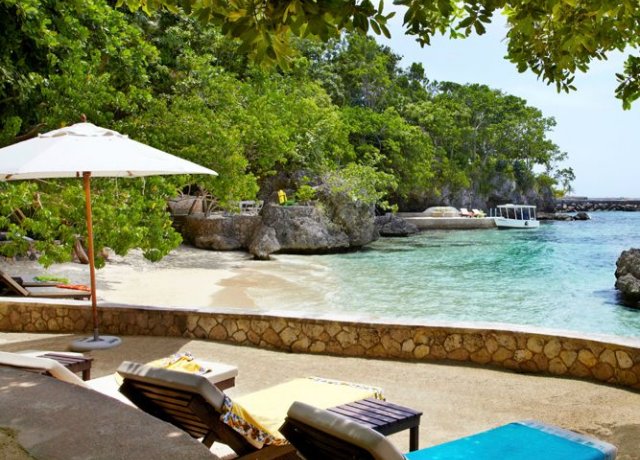 Waterfront Delights
And though it is among the luxury villas with a private pool area, it is also one with an expansive private beachfront to go along with it. Set along the island's northern coastal area it affords the rare opportunity to gaze at sunrise and sunset alike. Sit along the garden's edge in an array of oversized lounges, savor the views from the al fresco dining area tucked beneath a row of trees at the beach's edge, or dive right in from the white sands of your idyllic private beachfront…this is sure to become one of the most coveted parts of a visit.
As noted, there is a charming pool area, and it is tucked discreetly to the end of the main house and situated in front of one of the two small bungalows. One is a flawlessly appointed pool house with a covered terrace furnished as outdoor dining space and a kitchenette for making drinks and snacks.
The grounds are also furnished with a private heliport for easier transportation to and from the nearby Ian Fleming Airport, expansive gardens, and paths leading to the beach, the villa, and the GoldenEye area. There is also a private waterfront garden with stone terraces furnished for cool and shaded dining and lounging.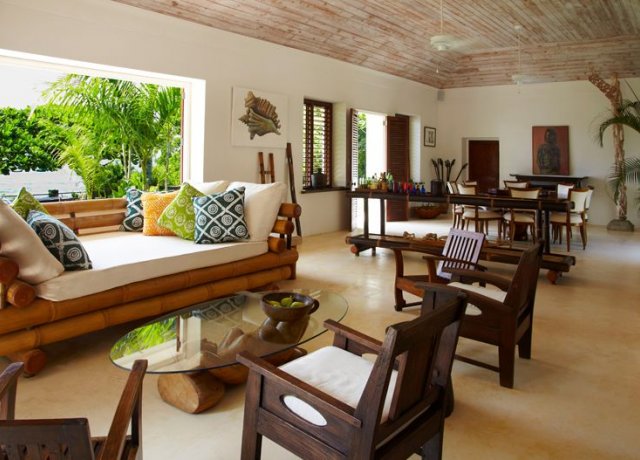 The Villa
The villa is a series of three structures, each designed in the iconic Jamaican style and decorated with true island flair and visual appeal. There is the main villa, the fifth bedroom in a free-standing villa, and the Sweet Spot, which is the charming poolside bungalow for enjoyable outdoor living and dining.
The main villa is flawlessly preserved and features natural stone, native wood, and Colonial-inspired furnishings. It features an expansive veranda that wraps most of the house, but which also incorporates some of the bedrooms (enabling them to open directly to the gardens). The shared living spaces provide inspired settings that capture the essence of Jamaican style and luxury villas.
You see this in the gorgeous great room that uses an open floor plan, pickled wood cathedral ceilings, and terrazzo flooring to make a remarkable impression. The space houses a living room with richly stained wood furnishings, a formal dining area, and a casual lounge that opens to the pool area.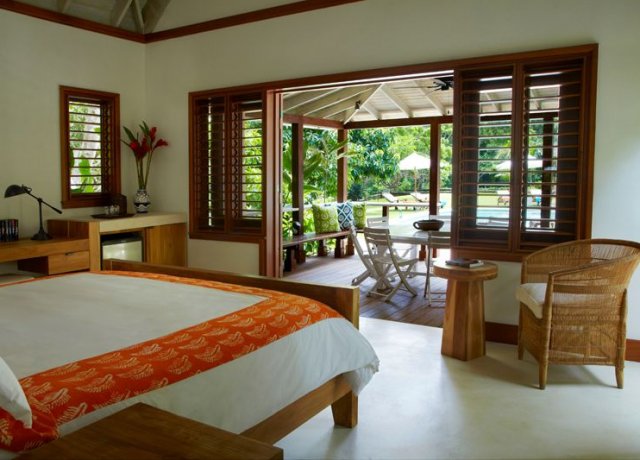 Unlike other luxury villas, though, the five bedrooms of Fleming Villa are each entirely unique and function like individual master suites. They are given names to coordinate with Ian Fleming's creations, and the ultimate suite is the 007 with a four-poster king bed, oversized windows with island-style shutters opening to the sea views, and an enormous outdoor bath. The room is extra-special as it is also furnished with the author's actual writing desk where he penned the Bond stories. The outdoor bath is also extra-special as it has a huge claw foot tub, a full shower, and a sink.
The remaining bedroom suites are also standout stunners different from what is found in other luxury villas, with 008 opening to the garden and also featuring a similar claw foot tub, shower and sink outdoors. The 009 is also appointed with an al fresco bath and large, four-poster bed. The pool house can be a bedroom with its king bed and outdoor shower in a grove of banana trees, and the second bungalow offers similar luxuries with its king bed and outdoor shower in a tropical garden.
If you are seeking one of the luxury villas of Jamaica as a holiday destination this winter, it is difficult to match the beauty, privacy and amenities afforded by Fleming Villa. It is an inspired and inspiring space that is a destination all on its own as it is home to the creation of one of modern literature (and film) favorites.
It provides the kinds of attentive services and extras that few luxury rentals can offer, as well, with private chef, household staff, private beach, full resort privileges, and all just minutes from some of the best restaurants, shops, and nightlife Jamaica has to offer.