If you have never visited the Caribbean before, or you are unfamiliar with Barbados and Jamaica, you might not know that they are two very unique locations. You may even ask "Is Barbados in Jamaica?" if you are unfamiliar with the geography.
To answer that question, it is a simple no. Both are island nations and they sit quite far apart from one another in the Caribbean Sea. Jamaica is due west of Hispaniola, the island that is home to Haiti and the Dominican Republic. Barbados is far east of this area and sits close to St Lucia and Grenada, and is a short distance north of the South American continent and the country of Venezuela.
Though both are wildly popular with travelers from all parts of the globe, and though both have some of the finest beaches and calmest waters, friendliest locals, and amazing cuisine, they are different. As one expert noted, "each has its own atmosphere and distinct characteristics that cater to different styles of tropical island vacation." And you will want to know about these differences to know which Caribbean island is best for your travel preferences.
In this article, we are going to compare Barbados and Jamaica to help you make your best travel plans possible.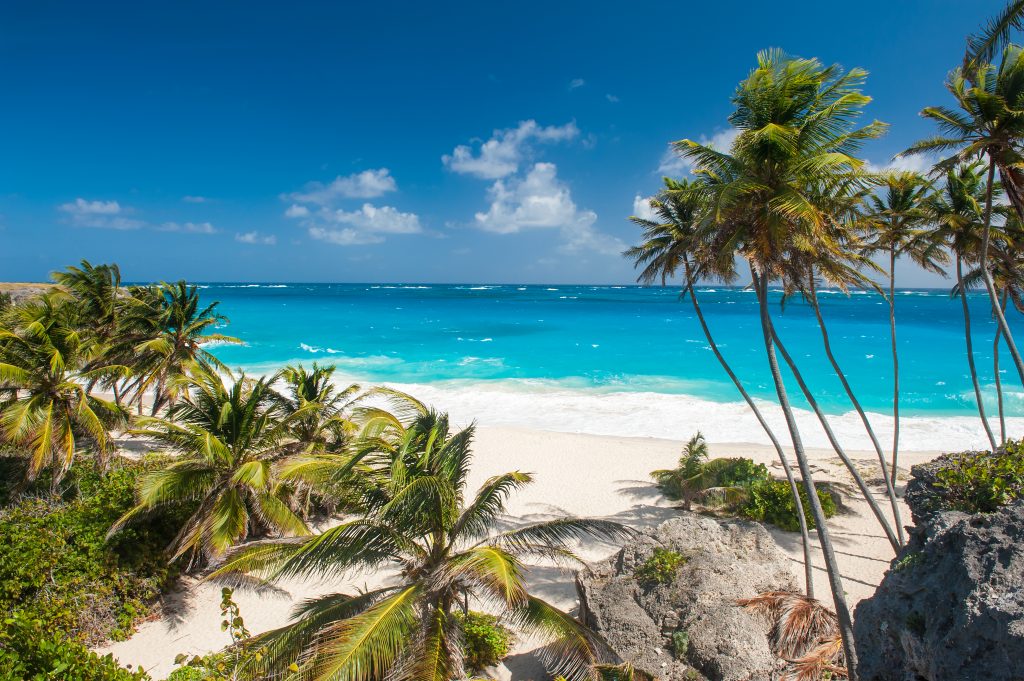 Barbados – The Island That Has It All
With a reputation for world-class beaches (it is home to an area known as the Platinum Coast named for the white sand beaches and exclusive properties that line it from top to bottom), Barbados is a very prosperous location.
Popular with celebrities, it is home to a UNESCO World Heritage Site (the entire capital city of Bridgetown), and some of the best restaurants in the region. Dense with gardens and former plantations, it is known for its eastern coast that faces the Atlantic Ocean and offers a bit of wilderness, as well as surfing. It is also known for its western coast (that Platinum Coast already mentioned) and stunning luxury.
In total, it has more than 60 miles of coastline and many popular attractions. These include Harrison's Cave, an amazing spot with walking and tram tours. There is the Folkestone Marine Park where visitors can snorkel and explore a reef created by the sinking of a freighter in 1956. The Barbados Wildlife Reserve is also a wonderful family destination where travelers can meet green monkeys native to the island. It has a famous annual celebration known as Crop Over that is a lot like traditional Carnival, as well the Holetown Festival, the popular Oistins Fish Festival, an annual Reggae Festival, and much more.
It is a very historic island and famous for the hospitality and friendliness of the island's residents. It is visited by all major airlines and has a thriving tourism industry. Barbados is much smaller than Jamaica at only 165 square miles.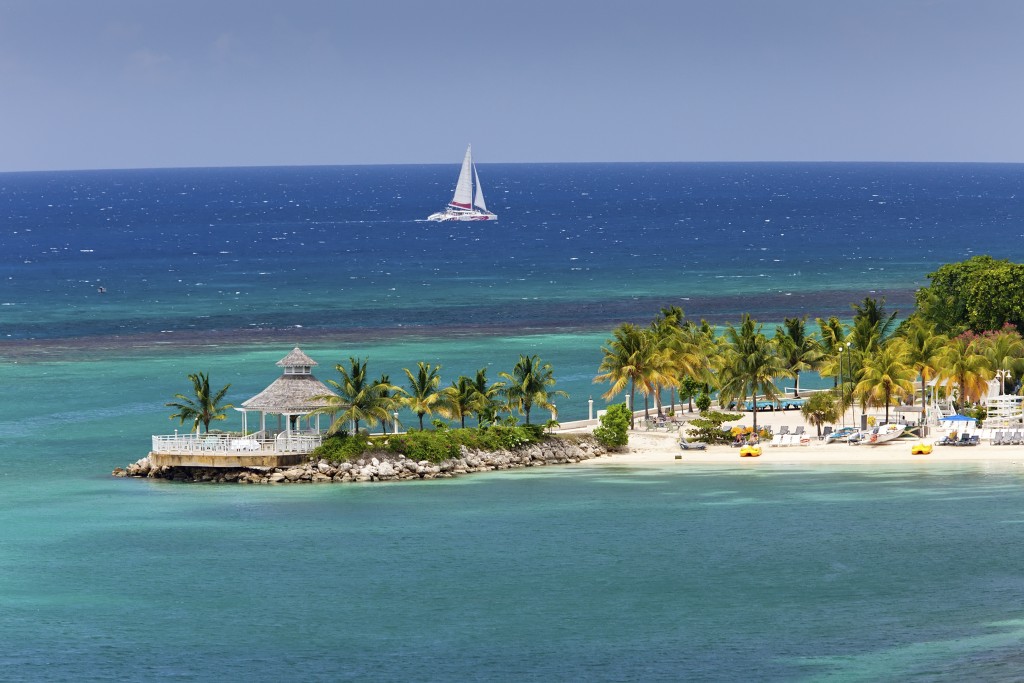 Jamaica
Part of the "West Indies," it is often thought of as a resort-heavy destination, but both Barbados and Jamaica have many amazing natural wonders and attractions. Jamaica also has white sand beaches, as well as famous waterfalls, lush mountain landscapes, and several urban areas.
It is enormous compared to Barbados, at 4,243 square miles, and far more populated. It too is visited by most major airlines and has two large airports. With a lot of history dating back to the days of sugar plantations, it is also known as the home and birthplace of the music known as reggae. However, in any Barbados to Jamaica comparison, it cannot be ignored that Jamaica has excellent golf courses and natural attractions.
For example, many visitors head to Dunn's River Falls along the northern coastal area. Close to the busy Ocho Rios area, it has seven natural falls that all reach the sea. It is a great day hike and includes plenty of spots to swim or soak up the cool mountain waters.
Golfing is a huge pastime in Jamaica, and a comparison of Barbados and Jamaica must point out that Jamaica is consistently ranked as a top golf destination. In fact, the Montego Bay area is a premiere spot for golfing enthusiasts heading to the Caribbean region.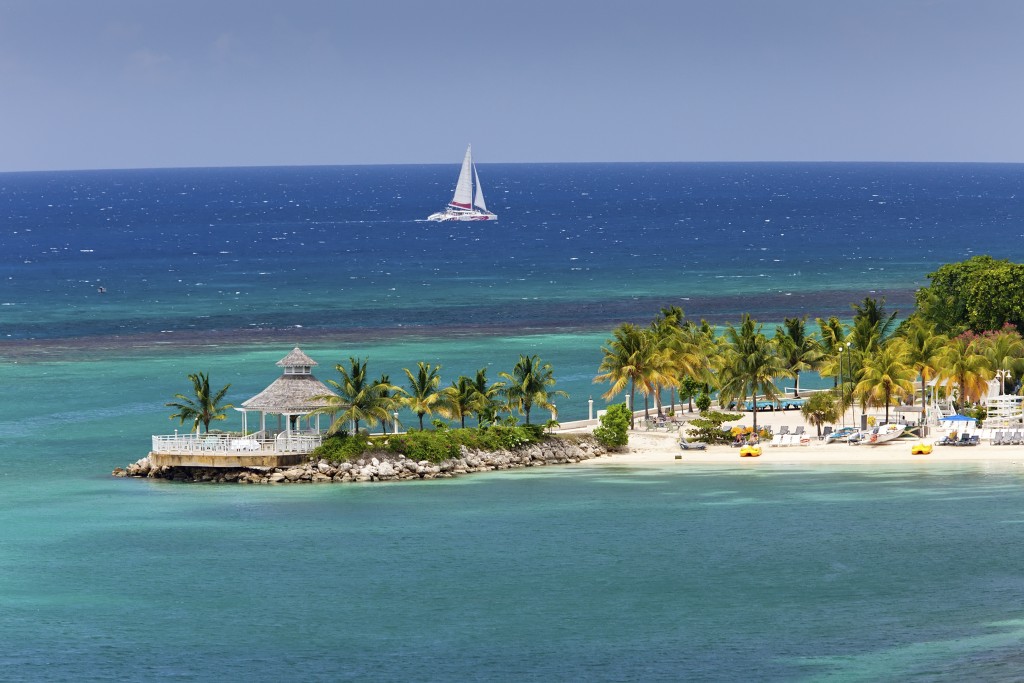 Which to Choose: Barbados vs Jamaica
So, they are both excellent destinations with lots to see and do. How do you know which to choose? It all boils down to what you wish to do with your holiday time. Barbados has many resorts that are ranked as the most luxurious imaginable, and they sit right along the western coast and have excellent amenities and activities.
Barbados is also deemed among the safest destinations in the region, meaning you can feel comfortable booking a stay in one of the many luxury rentals and exploring on your own. That would mean visiting the many beaches, heading to the endless array of shops and restaurants, and enjoying the different adventures around every corner.
When considering a Barbados vs. Jamaica vacation it is important to note that Jamaica has many of the same benefits. However, if you are all about golfing, Jamaica is likely to be a more satisfying spot as it has some of the best options. The beaches are also hard to beat, and both islands have excellent nightlife.
The difference between Barbados and Jamaica really boils down to the cultural differences. Jamaica is larger and has a distinct nightlife atmosphere. Barbados is far smaller and has an extremely friendly and welcoming mood. It is often deemed the ideal family-friendly spot because of its friendly locals.
The good news is that you don't have to choose between Barbados and Jamaica as they are both home to excellent accommodations and both are easily reachable by major air carriers. Whether you go for a visit to one in the spring and another in the autumn, or you combine visits to other islands, such as St Barts, Turks & Caicos, Barbados and Jamaica, you are sure to be delighted.
Make this the year you find out for yourself which you like best, and it is certain that you will want to return to reconsider your choice and see if one island can change your mind!
Comments
comments