Courchevel is at one end of the "Trois Vallees," known as the "world's largest lift-linked ski area." With over 165 lifts and more than 600km of pistes, and a good blend of slopes ranging from family-friendly greens and blues to more than two dozen red and black options. Beginners also enjoy free lifts in the resorts and the entire system has a large number of chairlifts and gondolas to make exploring the region easy and quick.
That tells us one thing – it is a great spot for a late winter getaway with the family (or you best friends). After all, with some of the world's best skiing conditions and the amazing diversity of trails to access, and for all levels of skill, it is a flawless ski destination. Yet, with those charming, picture-book villages and luxury properties, providing a way for a group to stay together, it becomes a rare opportunity for late season fun.
And yet, it is not one massive resort, but a series of villages with their own unique qualities. As one expert explains, "Courchevel's six distinctly separate resort villages are linked by lifts, pistes and a road which winds its way up through La Tania, Courchevel Le Praz, Courchevel Village and Courchevel Moriond to the highest base, simply known as Courchevel." If these names are not as familiar as they should be, it is because the area was renamed in 2011 (eliminating the altitude-related names like Courchevel 1850, and so on).
As noted, each is unique and a family retreat or luxury vacation rental with friends can be enjoyed in a more modern and fast-paced area or something like Courchevel Le Praz, which is described as an "old, rustic village at heart," with its old ski jumping hill from the 1992 Olympics still in place.
What makes many of the areas similar is their array of luxury rentals  available. They are the perfect choice as a late winter holiday spot with family and friends, and below we look at some of the most coveted and family-friendly options.
Ski-In, Ski-Out and Loads for the Non-Skiers, Too
While you head to the slopes to enjoy the skiing, even the most ski-crazy families or groups of friends may not book at a ski-in and ski-out location if a few in the party are not enthusiastic skiers. The good news is that the luxury properties of Courchevel are so packed with other amenities and activities that they make an ideal retreat for a mixed group.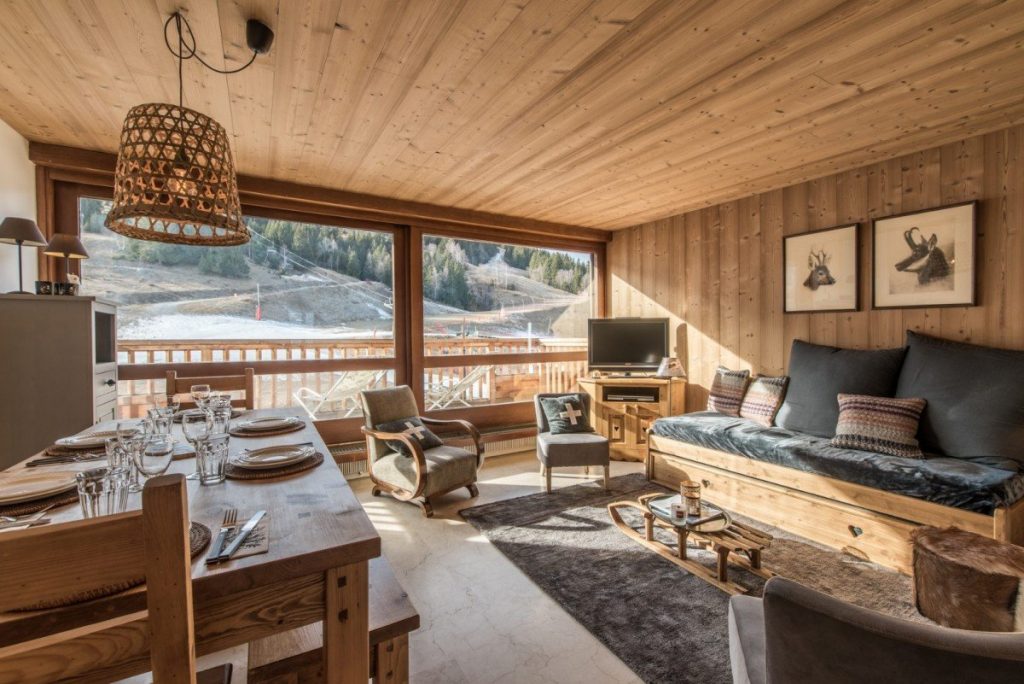 Piste Blanche
Consider Piste Blanche, which is in Courchevel Village (formerly Courchevel 1550). It is a charming, apartment-style chalet. It is a true ski-in / ski-out property and just steps from the delights of the village nearby. While the skiers can access the entire system when stepping out the door, the non-skiers are able to walk to town or hop on one of the gondolas to explore the shopping, dining, hiking, and other outdoor activities that are not related to skiing.
Yet, they may not even want to as this top-floor, two-bedroom gem features an enormous and sunny balcony, a cozy interior with amazing views and a long list of amenities, premium décor, a delightfully well-appointed kitchen, and bedrooms with ensuite baths. Offering the epitome of hygge, it is a good choice as a family retreat.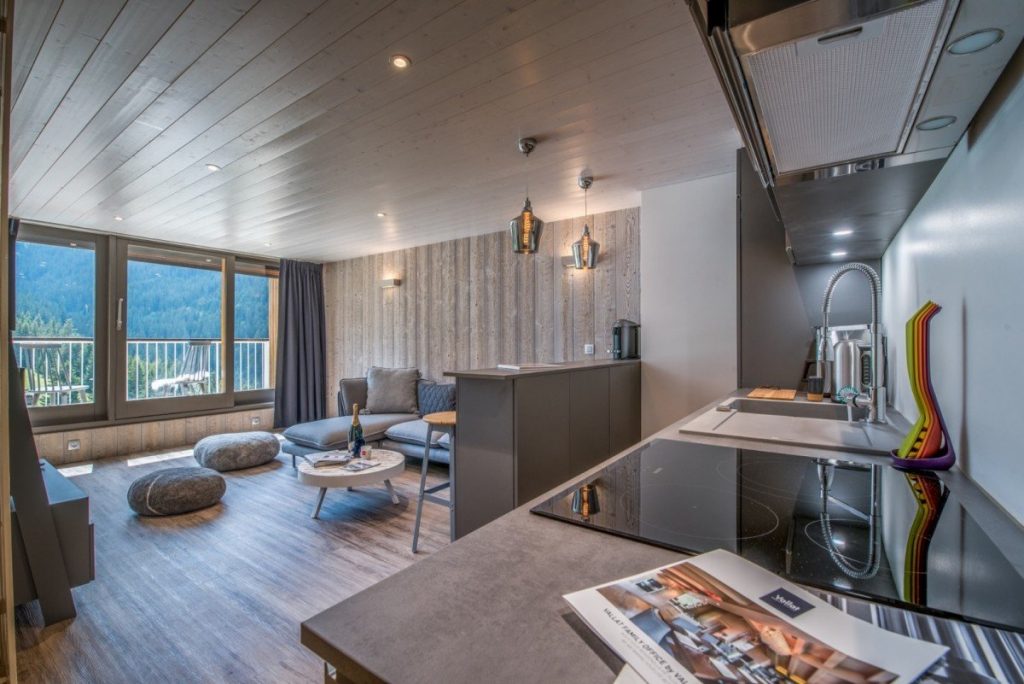 Ariondaz Bleuet Lodge
A larger group may wish to visit Ariondaz Bleuet Lodge, which is at the Courchevel Moriond level (formerly the Courchevel 1650). Here, an opulently designed and decorated, three-bedroom apartment sits high on the 8th floor and provides a spacious and sunny balcony for everyone to enjoy. The apartment has a modern entertainment system, and is also steps from the village. With its ski-in / ski-out design, it can allow everyone to meet in town at their favorite après ski spot but also enjoy days on or off the slopes.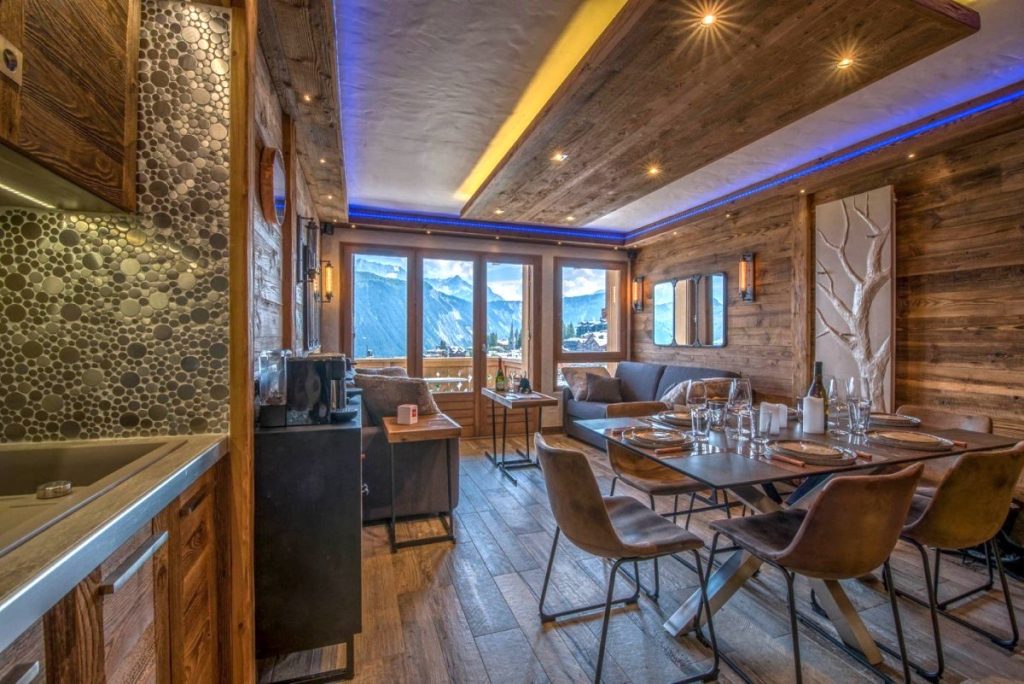 Cosy Chablis
If a family is eager to stay at the very top of the resort, the Cosy Chablis luxury apartment is a good choice. Part of what was once known as Courchevel 1850, but which is now simply Courchevel, it is a two-bedroom, luxury apartment featuring iconic alpine design and show-stopping views. Step out on the large and well-furnished balcony and soak up the sun while taking in the truly astounding views. Inside, the lodge-like décor sets the stage for evenings of fun, while the modern kitchen makes it easy to prepare meals, snacks, drinks, and other meals at any hour.
The spa-like master bath is the perfect place for the non-skier to retreat with a good book and enjoy the peace and luxury of the surroundings.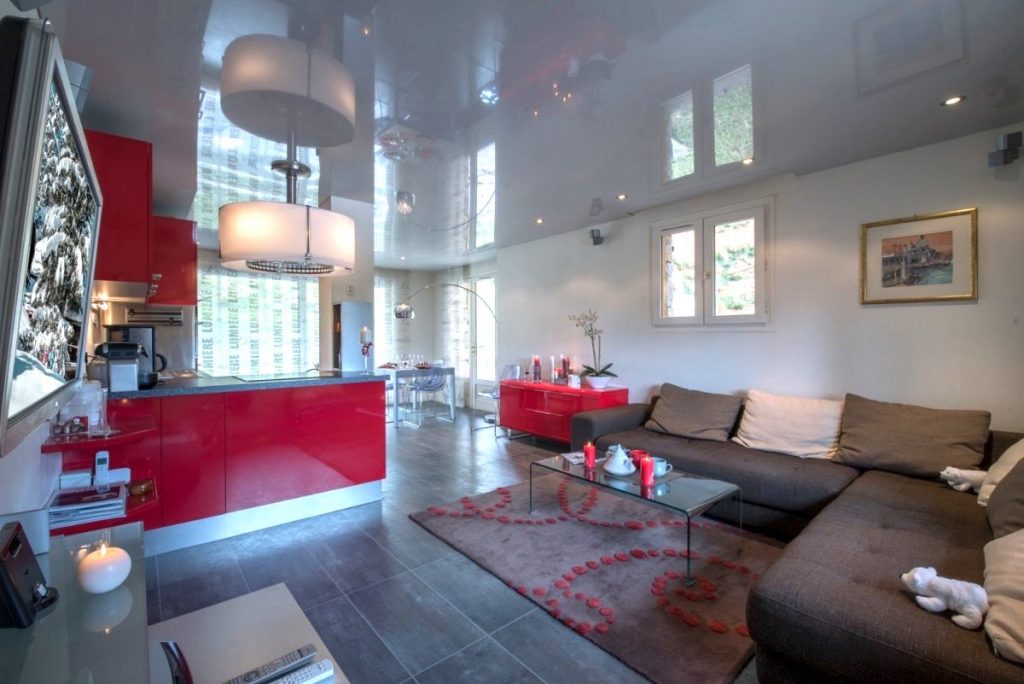 Lutin
If a larger space is needed while on a family holiday in Courchevel, Lutin is another fantastic option. A duplex, it is in the heart of Courchevel (within the Le Plantrey area) and is just a short walk to La Croisette, which is part of the Courchevel 1850. It is a ski-in / ski-out property that features remarkable, modern design and décor, tremendous interiors that include a great room with entertainment system, a full-sized kitchen, and a welcoming main-level lobby and ski room. Housed in a classic chalet structure, it is the best of all possible worlds.
Late Winter Fun
A perfect family vacation in Courchevel awaits those eager for a late winter break. The area is full of non-stop activity for the non-skier, too. Consider that Courchevel is also host to the International Fireworks Festival in February or March of each year, as well as the 3 Vallées Enduro that occurs every  April. In the latest reaches of winter you can also see the Dynastar X3 mountain triathlon taking place in the Courchevel resort area.
Whether only one or two in the group love to ski or there is just one "odd man out," in the skiing family, Courchevel is a good choice. World-class skiing, charming villages full of shopping and dining, and a slate of non-skiing activities and options make it a premium family getaway all year long.
Comments
comments