The Eagle Lake Estate is a private vacation villa located in Sun Valley, Idaho, in the Mid-Valley region. This prestigious estate features five bedrooms, six bathrooms, and room for up to 12 guests with children welcome. This private estate sits near the lake and offers stunning views of the mountains with a home that measures more than 7,000 square feet.
Sun Valley is home to great skiing and outdoor activities in some of the most beautiful untouched country in North America. Here, visitors enjoy shopping, dining, and even exploring a little skiing history since Sun Valley is home to the first chairlift in the world, which what put the city on the map. Read on to learn more about this impressive holiday rental and how you can make it yours for your next getaway to Sun Valley.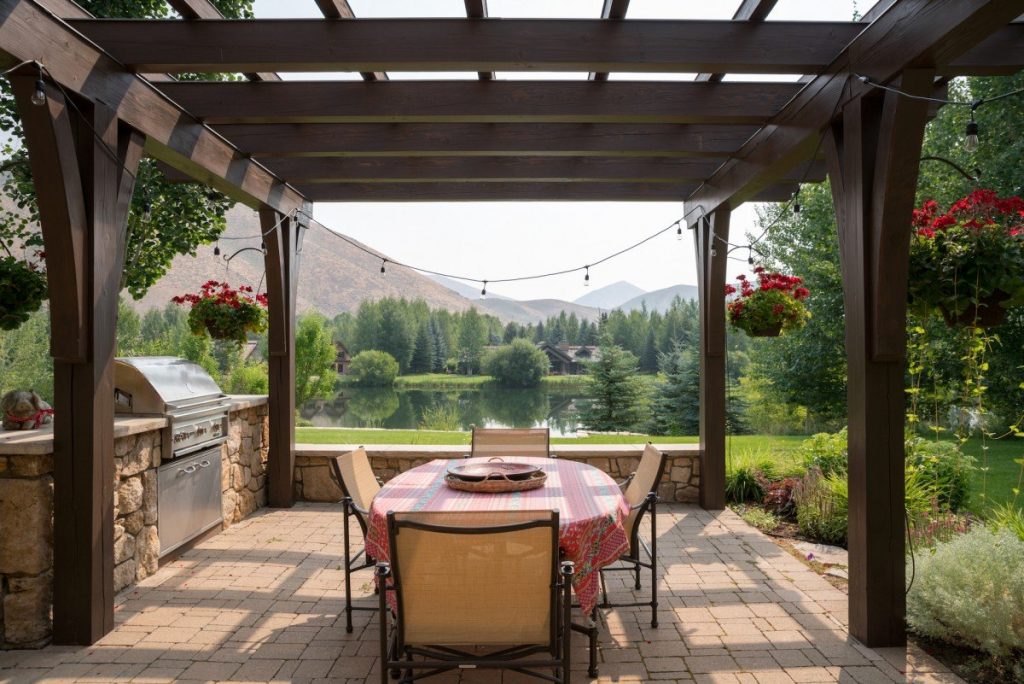 The Estate
Guests will arrive to find gardens, outdoor lounge areas, a fire pit, and plenty of green grass for the kids to play in surrounding the massive house that features multiple outdoor patios and terraces, along with plenty of privacy and a unique look that blends into its surroundings seamlessly. The estate also affords access to the community tennis court and pond, along with convenient access to hiking, skiing, and the town of Ketchum, which is just a 10-minute drive.
On the grounds, guests can enjoy outdoor dining, relaxing under the stars, and strolling through the gardens on the property. There is also a two-car garage at the estate, which is just minutes from shopping and dining when you don't feel like eating in. Upon entering the house, people will be greeted by a massive space with vaulted ceilings and an open stairway to the second floor. The great room features a fireplace and there is an impressive dining area off to the side, as well.
The ceiling features exposed beams to add to that lodge-like feel, along with premium woodworking throughout the house that adds to the luxury feel of the home. Floor-to-ceiling windows throughout various areas of the home allow in plenty of natural light for an open, airy feeling that you expect in a place like Sun Valley. The estate is traditionally furnished, offering an old-fashioned feel that is comfortable and inviting without compromising on any modern creature comforts.
The modern kitchen even features a farmhouse sink, along with an expansive breakfast island with a built-in stovetop and modern appliances. The bathrooms in Eagle Lake Estate feature premium materials and luxury furnishings, including claw-foot tubs, marble countertops, premium rainfall showers, and more. From one room to the next, the luxury just keeps coming.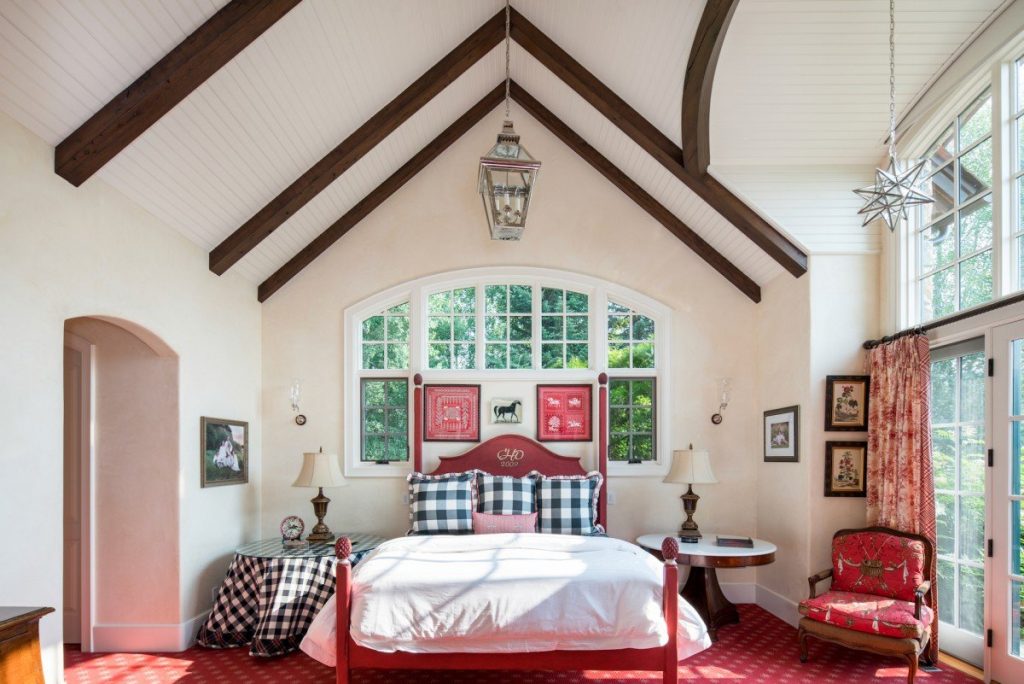 The Bedrooms
The five bedrooms feature two King beds, two Queen beds, and four Single beds to ensure that there are sleeping arrangements for everyone. Four of the bedrooms are located on the second floor, including a children's room that features bunk beds and offers its own ensuite bathroom. This level also has one King room and two Queen rooms, as well as a large living area with a fireplace and informal dining space. The King suite on this level features access to the balcony for enjoying views of the property from a higher vantage point.
Downstairs, guests will find the master suite on the main level. It offers stunning views with floor-to-ceiling windows and a lounge area through a set of French doors that has a hot tub and a fireplace. There is also a private bathroom that includes a soaking tub, and the entire suite is private and cut off from the rest of the house.
All of the bedrooms also feature that traditional country décor that is seen throughout the estate, with each room having a different theme or color design. Some rooms include fireplaces or mock fireplaces, and many include an ensuite bathroom for convenience and privacy.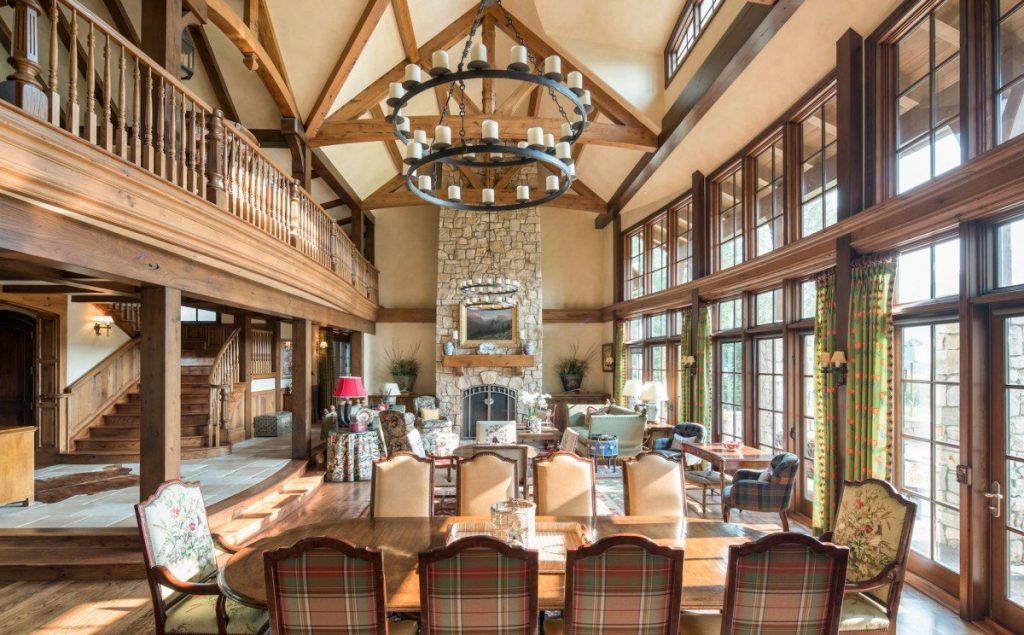 The Amenities
Eagle Lake Estate has a huge list of amenities to offer in its 7,000 square feet of living space. From the amply-appointed two-car garage to the bar, outdoor grill, and hot tub, there is a lot to love. Guests will enjoy flat-screen TVs, satellite/cable, WiFi and Internet access, and complimentary bed and bath linens. The estate also includes a coffee maker, dishwasher, washer and dryer, and other amenities to ensure that it feels just like home.
Concierge Service is also included with every stay at Eagle Lake Estate. This ensures assistance with logistics regarding arrival and departure, as well as additional services and support. Guests can rely on the concierge for any needs, including special requests, to ensure that their vacation is perfect. The available services include things like:
VIP Services
Chef and Catering Services
Transfers and Rental Cars
Provisioning
Spa Services
Excursion and Tour Booking
Recommendations
Guests will feel like true royalty when staying at Eagle Lake Estate, having access to a luxury home with all of the creature comforts and amenities that they are used to along with dedicated concierge service available day and night. Anyone who is planning a vacation to the Sun Valley Area would do well to consider Eagle Lake Estate instead of staying at another resort or hotel like every other tourist.
The Fine Print
This villa is a private rental and is not shared with other parties. There may be booking restrictions during certain dates or times of year, including the number of nights that the house must be booked and other details. This property does not allow pets or smoking and there is a cleaning fee included in the rental to ensure that guests don't have to worry about a thing during their stay.
There is a damage deposit required at this property, and the property advises that certain amenities may not be available during every stay. It is important to check the details of your reservation specifically to ensure that you know what you are getting. Feel free to contact the property manager with any questions or concerns before arrival to ensure that everything is in order.
Those interested in the property can learn more or book their stay at https://isleblue.co/villas/vacation-rentals/idaho/sun-valley/mid-valley/villa-eagle-lake-estate.
Comments
comments