Honeymoons are meant to meet the dreams and wishes of both people in the newlywedded couple. Yet, it can often become a matter of differing tastes and preferences. One wants to head to Europe and explore the varied cultures found there. The other might want to kick back at a beach and sip cocktails. One wants hiking and the other hours of massage and luxurious soaks in a spa tub.
The good news is that the location of a honeymoon doesn't have to become the topic of a first fight because St. Martin is a perfect choice. With its distinctly European flavors that come from its dual-citizenship (it has one side that is part of France and the other that is part of Holland), it features all kinds of cultural venues, eateries, and experiences.
Yet, St Martin is also a place of wonderful beaches and luxury spas, a few casinos, lots of outdoor activities, and the ideal place for finding something for everyone.
It is also home to some truly beautiful honeymoon villas, and we have rounded up five of the finest for honeymooners.
Our Top 5 St Martin Honeymoon Villas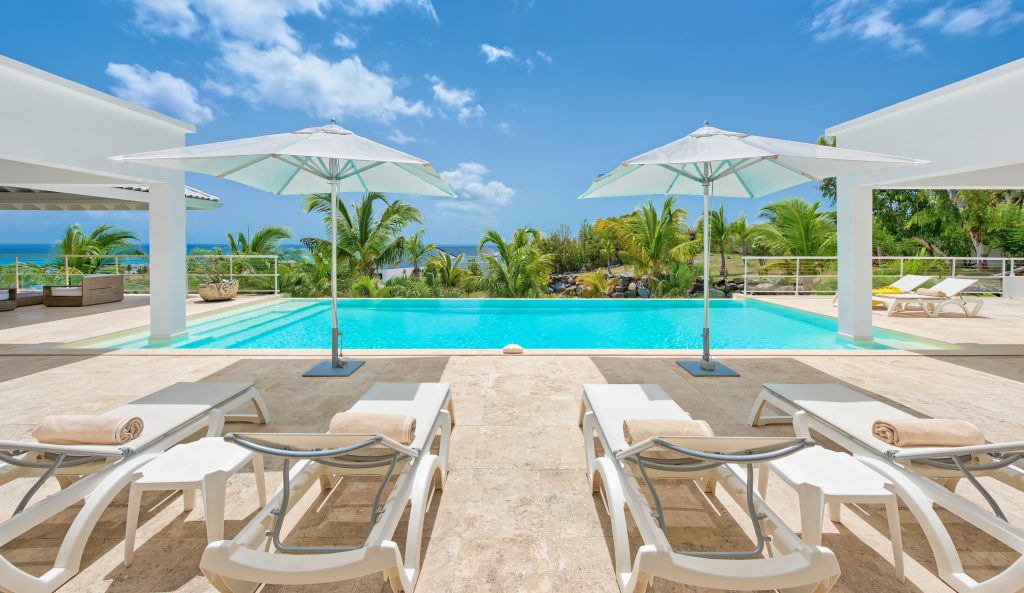 Set in the coveted Terres Basses area of the island, it sits atop a hill and offers gorgeous views, lots of privacy and the ultimate in an island escape.
Roomy (it is sized for four), it emphasizes outdoor living and offers up a wonderful array of open-air and covered spaces from which a honeymooning couple can catch the sea breezes, sunlight, star-filled night skies, and views of romantic swaying palms. A large stone terrace wraps three sides of the elongated, infinity-edge pool that gazes out towards sea views and lush gardens.
The terrace features a lovely sunny stone deck furnished with a bank of lounges. At one end is an alfresco living room tucked beneath the cool shade of the verandah, and the great room also opens directly to this wonderful space. It also opens to a rear garden, and its bright white palette and gracious interior design encourage only the most relaxing and casual hours of fun, frolic, and memory-making.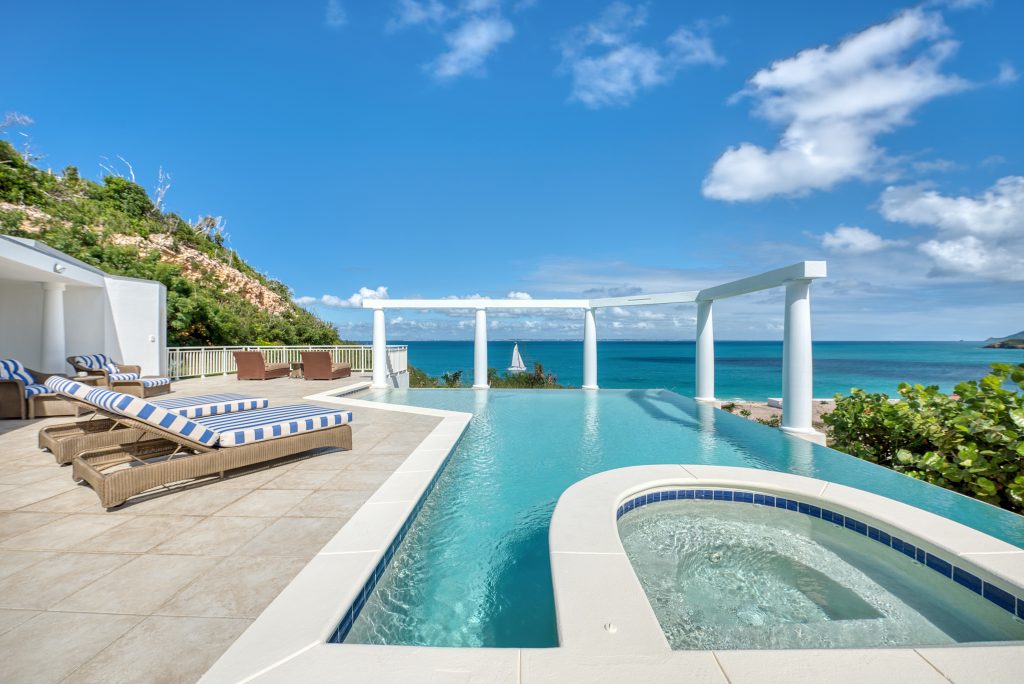 Set on the French side of the island, in the Baie Rouge region, this "Love Nest" (that is how the name of the villa translates) is the epitome of opulence and luxury. It looks out over the famous beach and offers amazing views at all hours of the day or night.
Spaciously sized for up to four guests, it offers a honeymooning couple a remarkable array of onsite amenities. The infinity-edge pool features a hot tub and stunning design that actually frames the view. The waterfall adds a bit of fun, and the many open-air and terrace living spaces let a couple enjoy the non-stop scenery from almost anywhere.
Inside, a great room furnished in a low-key style allows those views to be savored even if working in the kitchen. And the master suite opens to its own terrace space, allowing sunrise viewings from the comfort of a cozy king bed in this most romantic of honeymoon villas.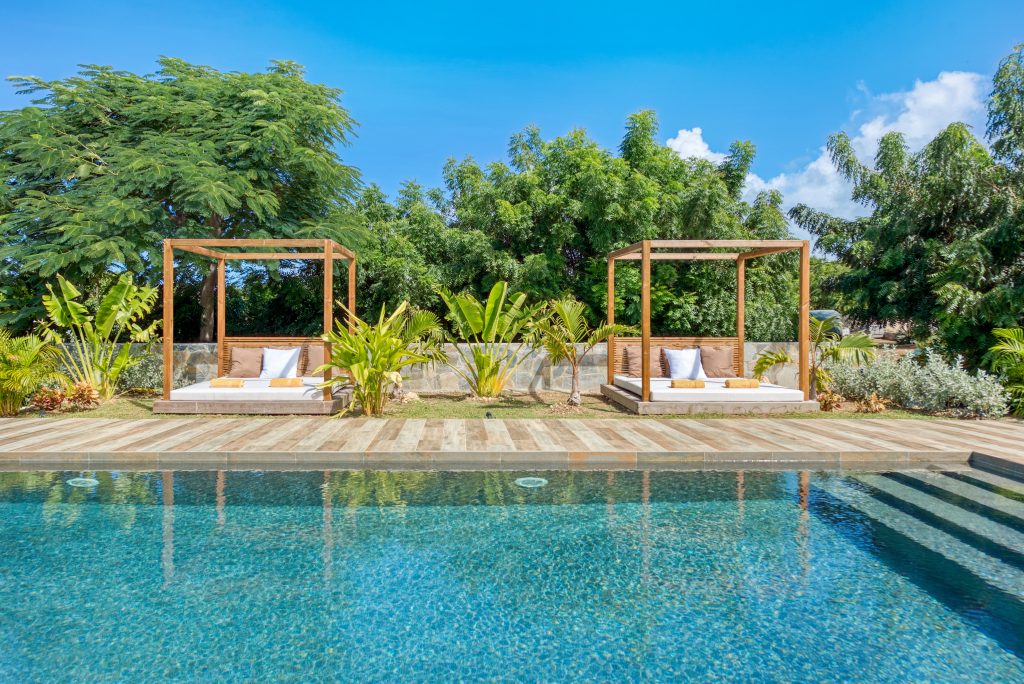 This large, three-bedroom gem is tucked into its own private landscape in the popular and coveted Terres Basses area. Part of the French side of the island, it is framed by private and lush gardens. Although Long Bay Beach and Plum Bay Beach, two of the most beautiful beaches on the island, are only 2 minutes away by car, honeymooners will be loathed to leave the beauty and comforts of this gorgeous honeymoon villa.
The oversized pool is framed by authentic, full-sized sunbeds, and features spacious sun decks with oversized lounges. Nearby, a gazebo features a private bar and outdoor dining, while the villa's beautifully designed and furnished living spaces ensure an array of comforts at any hour.
Whether lounging on the banquette beneath the portico, enjoying a movie on the oversized sofa in the lounge or making a delicious bite for the pair of you in the gourmet kitchen, it is sure to prove an authentic delight.
The enormous master suite features an ultra-romantic four-poster bed with sliders to the terrace and amazing garden views.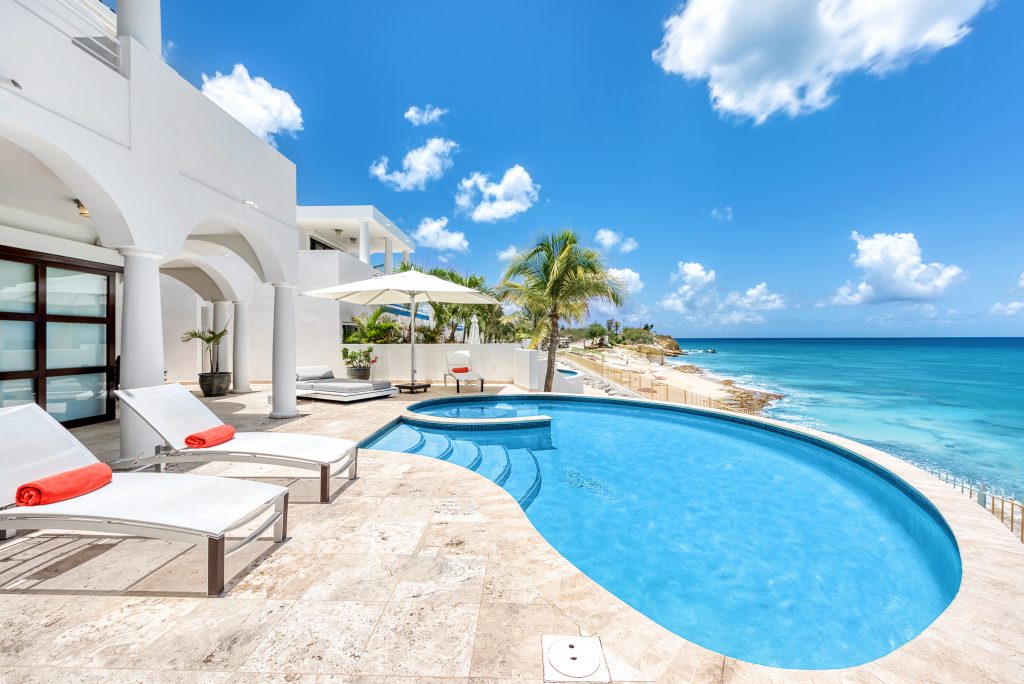 Cupecoy on St. Martin is noted as a luxury destination, and this three-bedroom villa is part of that area's exclusive Shore Pointe area. Stunning in its design, it features an elegant tear-drop shaped pool that gazes out over the beach and sea beyond. It is modern and classic all at once with its white columns and arches but emphasizes modernity in its décor.
The pool area has a full sun bed and lounge area, and an enormous hammock bed is sized just for two and framed by private gardens for the ultimate escape. A two-story home, it offers upper and lower level verandahs, beautiful alfresco dining areas, and a master suite that features a private deck, enormous bath, and amazing sea views.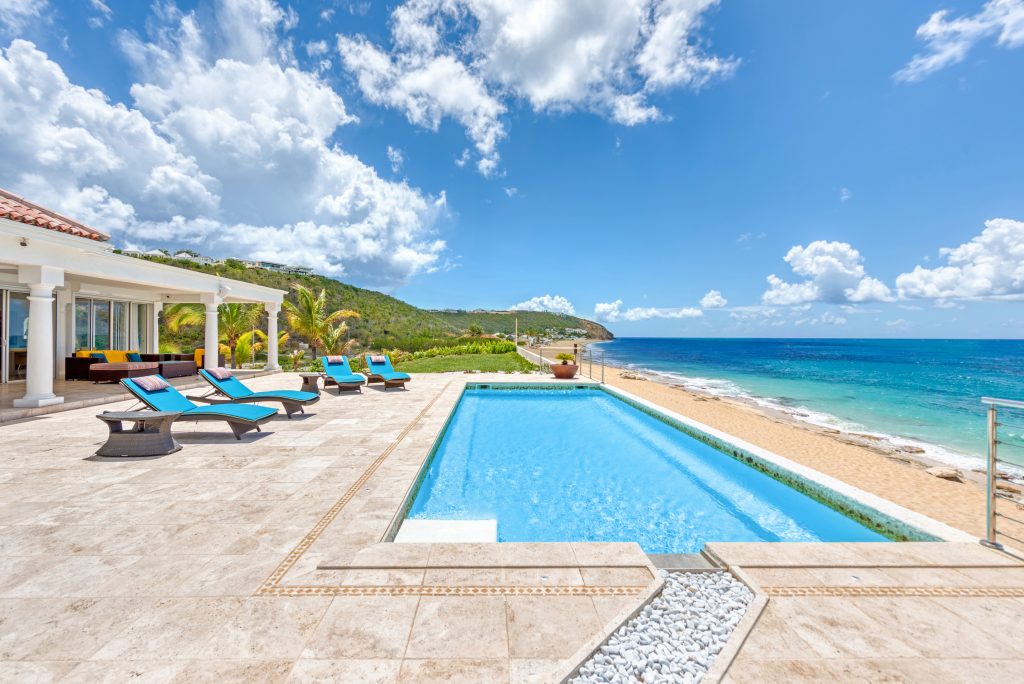 Perhaps you both dream of a romantic, beachfront, tropical retreat for your ideal honeymoon. If so, this two-bedroom gem directly above the sands of the famous Baie Rouge is just the thing. Visitors will marvel at the stunning sea and beach views and the private access to the sands below.
However, the oversized pool terrace with its spacious sun deck and cool, shaded verandah may be far more appealing to a honeymooning couple. The private hot tub incorporates a charming water feature that leads directly to the pool. The verandah gazes out on it all and includes a large and airy living room, a full dining suite, and oversized glass doors that open directly to the kitchen.
There is a beautifully furnished great room that leads to another terrace area opening directly to the sands and including another dining area.
The enormous master suite opens to the verandah and offers a luxuriously appointed bath and stunning sea and pool views.
No one has to give up their dream vision of the perfect retreat with these five exception St Martin villas that offer the ultimate setting for an unforgettable start to a new life together.
Comments
comments