Having transformed from magnificent ruin to fantastic retreat, the villa Tiberio is a remarkable find for those eager to enjoy the scenic beauty and unprecedented cultural opportunities found in the Umbrian and Tuscan regions. Set in Perugia and dating to the 1100s, it was once a Holy Roman fortress built by Emperor Frederico Barbarossa. Today, it is the ultimate luxury holiday destination, offering fully restored gardens and grounds, impressively designed interiors, and a wealth of upscale amenities.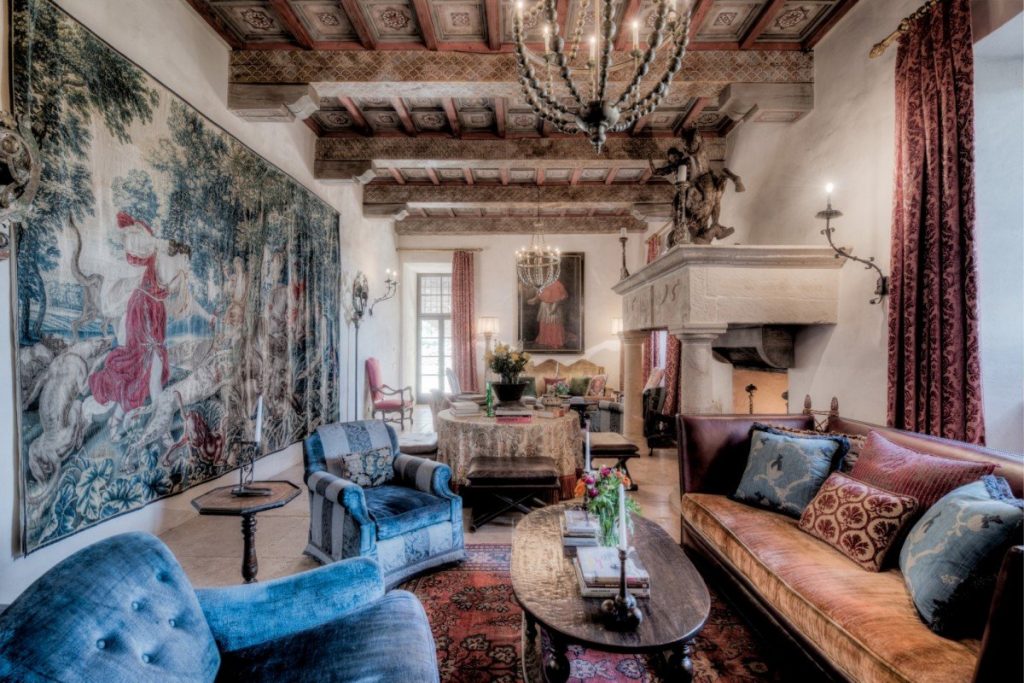 A Castle of Your Own
As its name implies, villa Tiberio is exactly that – a true castle with stone turrets, commanding views of the Tiber Valley and Assisi in the distance, and interiors that have been restored while also remaining grand in scale and atmosphere. An eight-bedroom property, each suite features a large fireplace and décor that includes ancient tapestries, beautiful frescoes, and authentic furnishings.
Undergoing more than a decade of careful restoration, returning it from what was essentially a crumbling ruin, it is now majestic and grand. The skilled team of architect Domenico Minchili and designer Martyn Lawrence Bullard used a room-by-room approach to return this castle to its former glory.
Of course, to remain as authentic as possible, the owners and design team carried out a complete archaeological inspection to unearth the original layout and size of the building. In doing so, they discovered its amazing history and the stories that surround it. Set on an ancient Roman site dedicated to the goddess Tedite, it was initially a fortress castle, next a monastery, and then a church.
Actual schematics and design plans of the original structure were located and used to restore the building to its original beauty. Today, visitors can savor the turrets, Great Hall, courtyard and patio and the beautifully restored chapel with its 17th century Italian alter piece and authentic silver.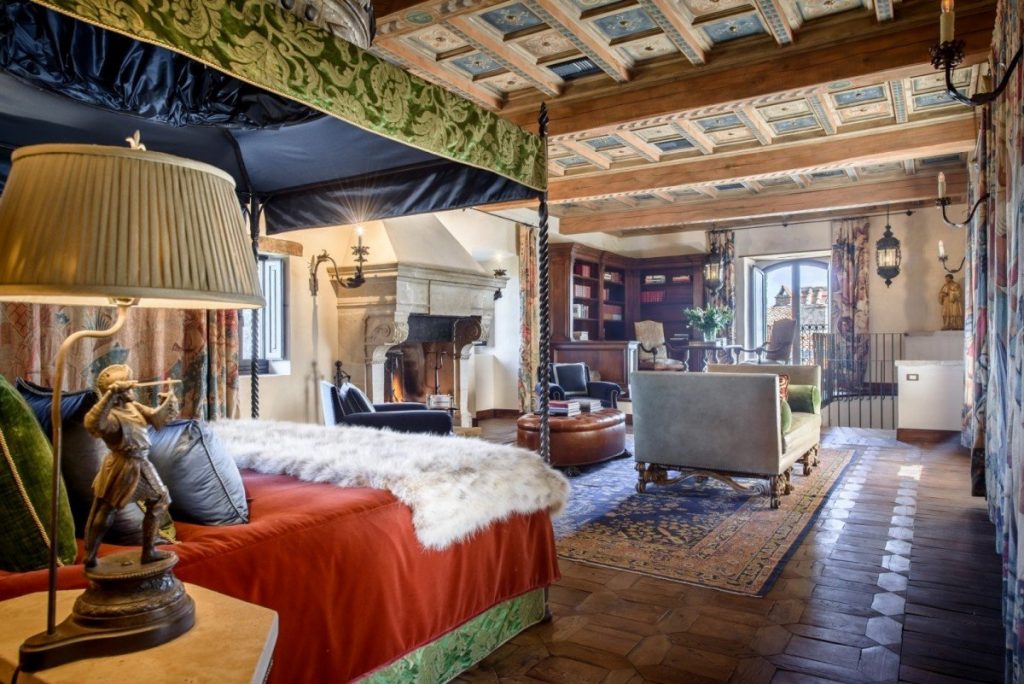 Modern Décor
Of course, while it is wonderful to experience these authentic interiors, the renovated areas also include stunning shared and private living spaces as well. The Great Hall, as mentioned, is like stepping into the past with its high timbered and tiled ceilings, enormous marble fireplace, gorgeous antique furnishings and stunning tapestries and art.
The turret is also a shared space, designed as the ideal retreat for couples or small groups, and furnished for a private meal. The dining room is impressive as well with heavily timbered ceilings, terrazzo floors, stone arches, gorgeous paintings and a banqueting table fit for royalty. However, the kitchen has a far more modern air, with many nods to the castle's past. Stone walls and terrazzo floors are balanced by modern and premium appliances, an oversized island topped in stainless steel, and the very latest gadgets and kitchen gear. All of the electrical appliances are from Viking, ensuring the very finest in performance and design.
The eight bedrooms are each named suites with stunning proportions, amenities, and décor. The master suite features a sitting area before the fireplace and a large, four poster bed. The ensuite bath has a Roman soaking tub and stunning stone surround. The Florentine Suite also has a separate sitting room and large bed, and its bath features a lovely footed tub. The Russian Suite is rich and opulent with a four poster bed and Jacuzzi tub. The remaining suites are equally resplendent and all feature private baths with opulent fixtures.
The exteriors have been refurbished and restored, with beautiful gardens surrounding the two terraces ideal for al fresco meals. It is also possible to host up to 100 guests on the premises. With its beautiful arched porticos, lovely pool area just a short stroll from the castle, rooftop barbecue, and abundance of stunning interiors and exteriors, it is the perfect way to experience Umbria and Tuscany while living like a royal.
Comments
comments