Whether it is a family vacation or a romantic holiday for two, a visit to the Cayman Islands is always a good call. Grand Cayman is at the top of the list for most travelers, and this is because it is home to what Coastal Living and US News & World Report deemed the best beach in the world! While it is inarguable that Seven Mile Beach is a fantastic spot, the island is home to many other show-stopping beaches. All are public to the high water mark, even those at the resorts, and there are frequent access paths along coastal roads – something to keep an eye out for when taking a drive or walk.
So, if you are looking for family vacation ideas or where to choose the best luxury rentals for your next visit to the island, we offer this brief guide to the very best of Grand Cayman's many excellent beaches.
Starting in the East
If you are a fan of sunrises on the beach, you will want to consider booking one of the many luxury villas or luxury vacation rentals in the eastern end of Grand Cayman. As one expert wrote of the beaches in this area, they are "deserted long sandy beaches…they have great snorkeling," and though they are often covered by "flotsam" brought in by the tides, they are among the loveliest and well suited to sunrise viewings. Most are also close to luxury villas and vacation rentals, making them ideal as a base to enjoy the best beaches of the Grand Caymans:
Barefoot Beach – A long-time favorite, it is often crowded but not in the early morning hours.
East End Public Beach –

Offers a dock and lovely cabanas for shady hours by the water

Coe Wood Beach –

Set in Bodden Town it has cabanas, too, and full facilities. It also has a fish fry at the beachfront café.

Rum Point – Weekends are busy, but there are hammocks and a good bar and grill open throughout the week.
Cayman Kai –

This is a public beach that borders Rum Point and has full facilities and great snorkeling

Starfish Point –

This is at the end of Cayman Kai and it offers very shallow and calm waters and as its name implies, it is frequented by scores of starfish.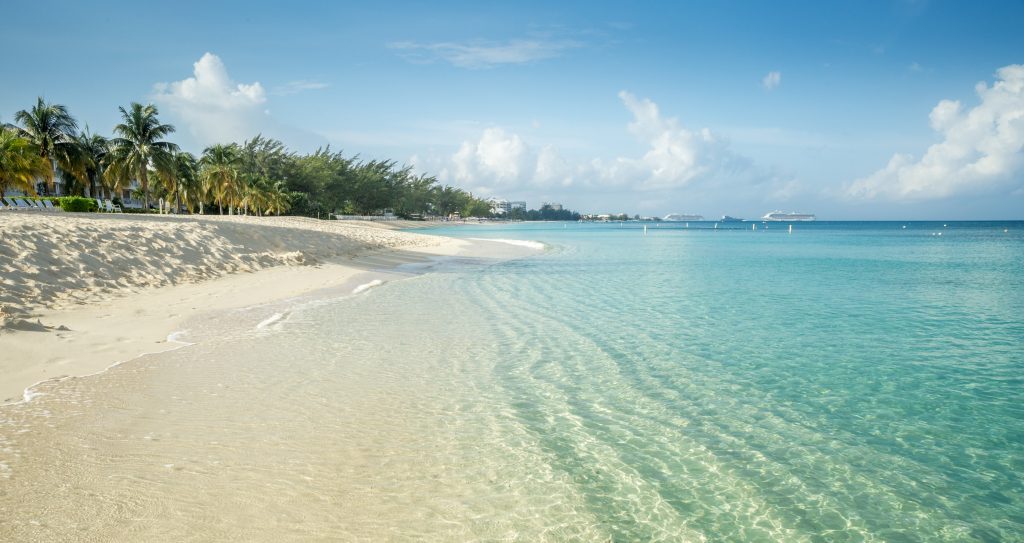 Central George Town Area
The central area of the island does not have as many beaches ideal for those eager to find the best of the best, but two that stand out from the rest are:
Smith Cove, AKA Smith Barcadere –  This is part of the "ironshore" coastal area of the island. It has excellent snorkeling and is noted for its great grounds with lots of shade trees and plenty of picnicking.
Spott's Public Beach – This is a southward facing beach that has a dock available. It is perfect for sunset hours, or the hours between 4 and 6PM when sea turtles come down for feeding in the shallow waters around the beach. There are no facilities and this is not a safe beach for swimming.
The West Bay Area
The western edge of the island is home to the family-friendly West Bay Beach. This offers some of the most robust facilities and services. It features ample parking and many cabanas. There are shade trees and a large dock nearby. Many people staying in luxury villas will enjoy a diving experience that begins from this dock, as well. There are good restaurants, and this easy to reach beach is often described as a must for those booked into any of the luxury villa rentals on the island.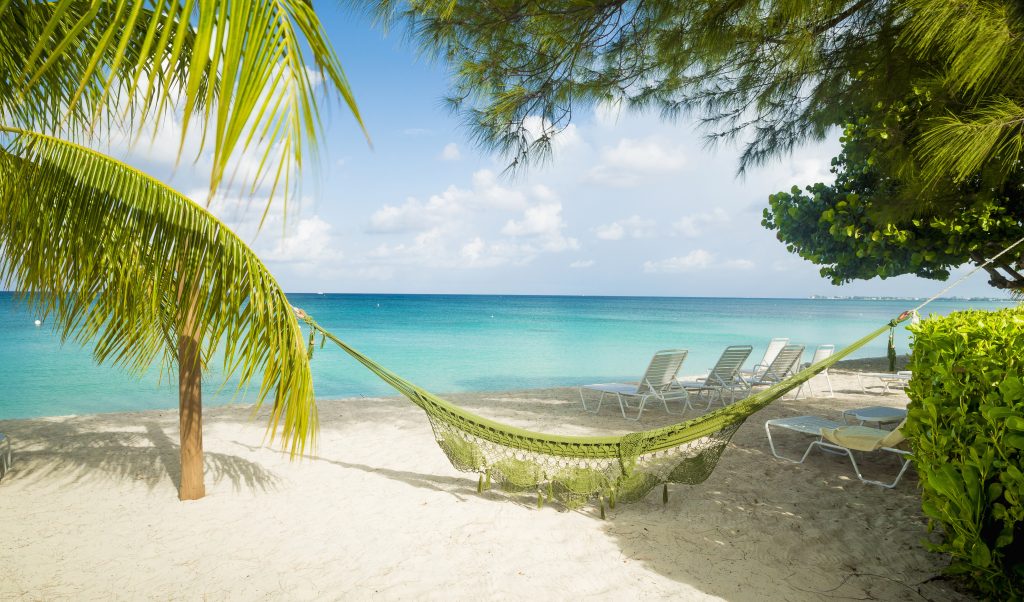 Seven Mile Beach
If we are talking "musts," where the Best Beaches of Grand Cayman are concerned, than Seven Mile Beach has to figure quite prominently. It is, in fact, less than six miles in total length, but it is a remarkable destination for those in vacation rentals or luxury villas. Even if your accommodation has a pool and beach access elsewhere, it is very difficult to ignore the beauty of this vast stretch of white sand.
The entire area is given the umbrella term Seven Mile Beach, but is actually divided between an array of other smaller segments with separate names. Some holiday villas and vacation rentals are located along this coveted stretch and it is a great idea to consider them if booking a stay on Grand Cayman.
The different areas include:
Cemetery Beach – This is home to the best snorkeling on the beach, and some argue on the island. It is at the northern end of Seven Mile Beach proper and takes its name from the cemetery that is found just across from the beach entrance
Governor Beach – This is very popular with visitors to the island and is noted as another of the top sites for snorkeling. It gets its name from its proximity to the Governor's Residence situated along the road that leads to the beach
Public Beach – All beaches are public on Grand Cayman (as noted), but this is one that is famous for its great children's facilities and activities. It is large and well appointed with cabanas, restrooms, showers, a playground, and restaurants, nearby.
Other top beaches include Smith Cove, described as a quiet alternative to Seven Mile, Kaibo Beach popular with locals but also dotted with vacation rentals and luxury villas, and South Sound that is challenging to find but which offers one of the only areas where surfing is an option. There are scores of other areas, and as noted, always watch for signs that proclaim "Beach Access," as you explore the island. Many travelers staying in vacation rentals say they have discovered little gems by following the paths to lesser known spots.
There are many ways to enjoy a luxury vacation in Grand Cayman, and simply booking one of the luxury villa rentals is enough to make your stay unforgettable. However, choosing one of the villas close to one of the best beaches (or even set along its sands) will make a holiday truly remarkable. Start with the beaches listed here and you're sure to experience a fantastic visit.
Comments
comments