If you are considering your last ski vacation for the season, and you have yet to enjoy some time in the French Alps, consider a stay in Val D'Isere. As many know, it is a "legendary ski resort tucked away in a valley beneath the soaring peaks" of the Alps. Though it is a favorite of thrill-seekers for its amazingly challenging slopes, it is much more than a ski area.
It is also a place that blends cosmopolitan European charm with old world appeal. There is a notable "storybook charm" within the village proper, and a blend of French and English can be heard everywhere thanks to the region's international appeal. A popular area for apres ski events, it is also full of Michelin starred eateries and dining spots, and whether one enjoys walking or hopping on free shuttles, it can be a flawless retreat for the dedicated non-skier, too.
Val D'Isere Winter Sprots
The skiing is a focus for most visitors. As one expert has written, unlike "some resorts that claim a giant ski area, the pistes of Val d'Isère and Tignes are naturally linked without the need for long and boring connecting trails or lifts. On top of that, the standard of piste grooming is extremely high and the lift system is constantly being upgraded, making short work of any bottlenecks in high season."
This is why the area is a popular choice for snowboarding competitions in addition to classic ski events. The Critérium de la Première Neige, a Federation Internationale de Ski (FIS) competition takes place here every December. The hosting of the 1992 Albertville Winter Olympics' men's downhill, giant slalom, and Super G events also helped to transform the area's facilities.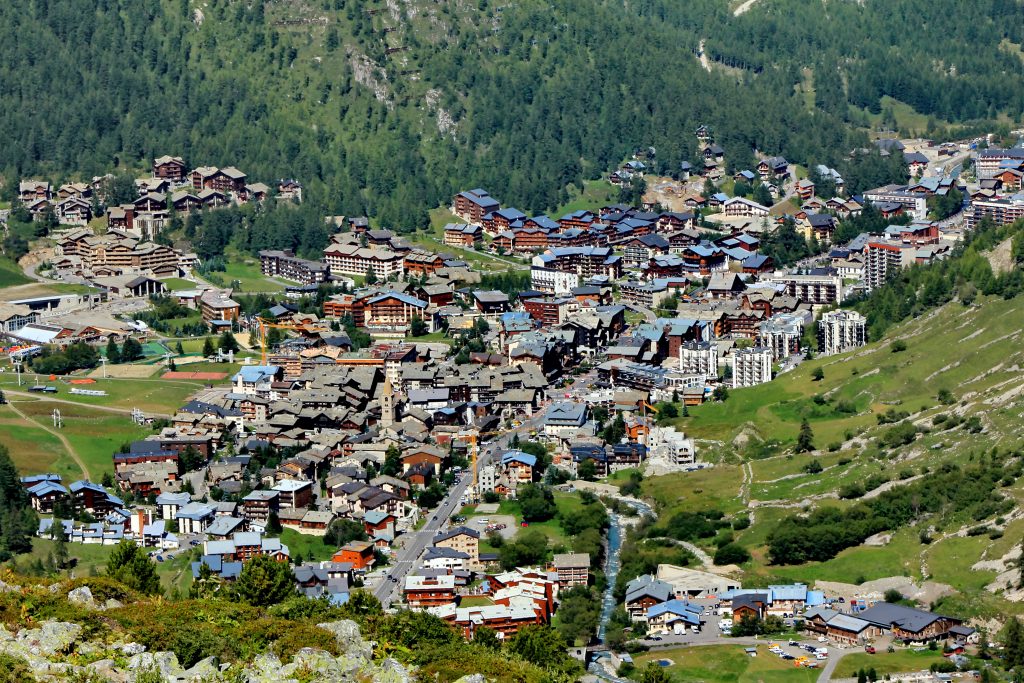 Val D'Isere Central Village
The town's center has been undergoing major transformations (including car-free main thoroughfares with underground parking), new pistes, underground walkways, and more. The dining in Val D'Isere is also noted for its excellence and development over the years. Today, it is a gourmand's dream whether at the lodges close to the gondolas or the Michelin starred establishments dotting the area.
There is also a great deal of shopping to be had in town, and activities outside of skiing include the hugely popular Aquatics and Sports Complex, several ice driving academies, the snow park, and the recreation centre.
A One-Stop Hideaway
Naturally, there are many eager to have a holiday or vacation in Val D'Isere, but who also wish for the many delights of the area to be just outside of their door. There are many luxury rentals in Val D'Isere, but if you are ready to book a group or family ski holiday before the season's end, and you wish it to be as luxurious as possible, the stunning Chalet White Pearl may be the solution.
An expansive, five-bedroom chalet, it features elegant style and unique design inside and out. The exterior uses iconic chalet lines, but covers a tremendous footprint with its multiple structures, decks, balconies, and terrace areas. Up to ten guests will savor the remarkably private setting and the stunning scenery of the Daille slopes area.
Just a short distance from the Funival funicular, thi s spacious and amenities-rich chalet is perfect for a group of avid skiers as well as those who would rather enjoy the shopping, dining, apres ski, and other activities.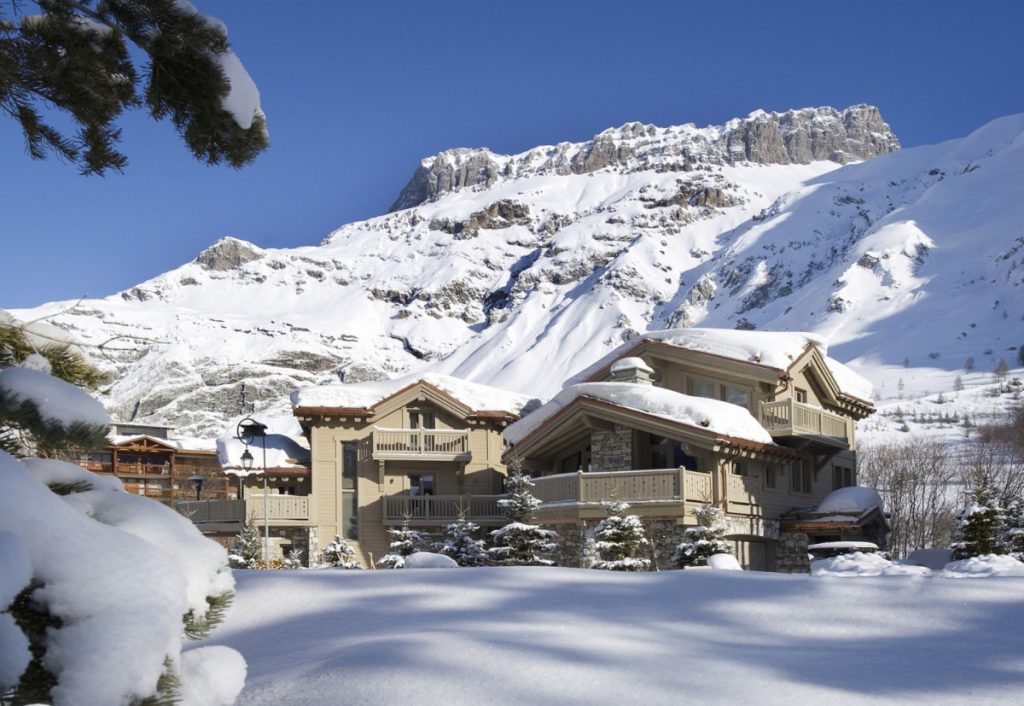 World-Class Service from Start to Finish
While it is ideal to have such an excellent location for a private ski retreat, having the very best in services and amenities is even more important. This property is fully staffed with a private chef who makes breakfast, high tea, and dinner five days of the week. There is a host (butler) and a housekeeping team, and you even njoy the services of your private driver and 4×4 for days spent exploring other parts of the ski area, doing shopping in town, or just taking in the views.
The amenities within the chalet are luxurious and welcoming, and they include an oversized indoor pool area that features a uniquely shaped pool and lounge area. There is a spa room with the option for booking services and treatments in the chalet. There is a home cinema and a lounge area, a ski room with heated boot racks, and more.
Beautiful Interiors for Beautiful Memories
The Chalet White Pearl is elegantly designed, but does not seek to overwhelm visitors with immense interior spaces. Instead, the heavily beamed ceilings and lodge-like spaces are always cozy and warm. The great room features a large living room with fireplace, access to the balcony, and oversized seating to ensure hours of comfort and fun.  Nearby is the elegant and yet comfortable dining room, and the gourmet kitchen is yours to use (but with a chef, you may never do more than make a quick drink or snack).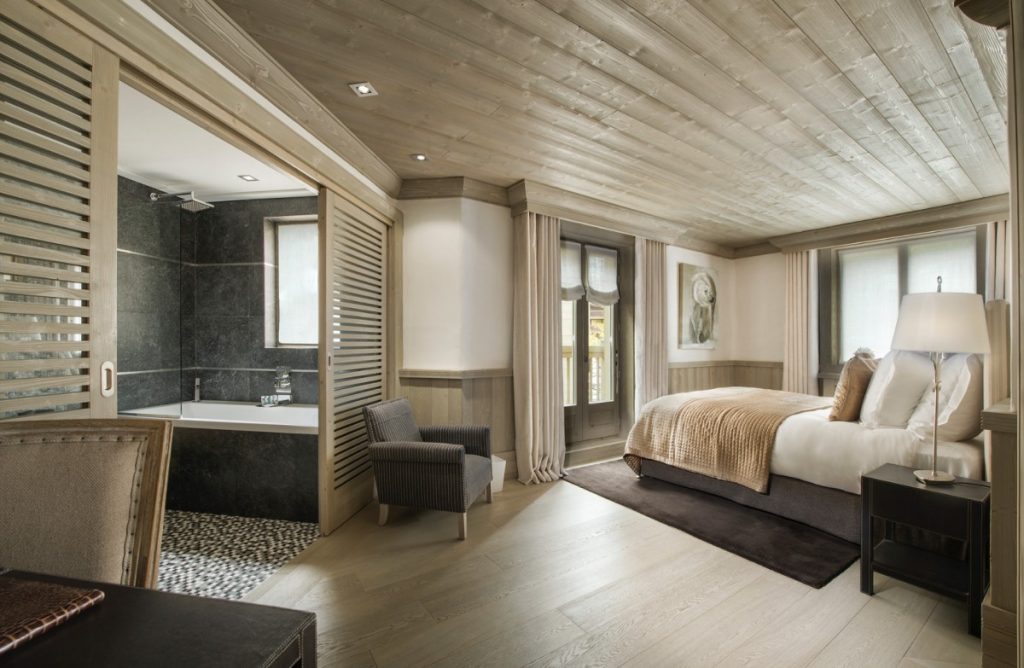 Bedrooms as Private Retreats
To ensure that all bedrooms are the equally opulent and private, they are divided between the different living levels. Two are on the main living level, and both are ensuite with queen or king beds. The master suite has an enormous bath and all have balconies. There is a second master suite on the uppermost floor with king bed and luxuriously appointed bath. There is another king suite, as well as a queen suite on the top floor, both ensuite with terraces.
Don't Miss Out on Last Minute Luxuries
Ski season is going strong in the French Alps, and many travelers book well into mid-April. That makes it the ideal time to consider a winter retreat in the utmost of luxury and style. A visit to the Chalet White Pearl or Val D'Isere in general is a great idea. Whether it is for an opulent getaway with family or friends, a couple's retreat to a cozy apartment-like chalet in the heart of the village, or something in between, there is a great deal to be enjoyed. Noted for its dining, amazing scenery, world-class skiing, and apres ski fun, Val D'Isere should be something you experience sooner rather than later.
Comments
comments