After saying "I do" and sharing a smooch with the person whom you plan to spend the rest of your life with, having an incredible honeymoon is the best way to finish things off. One of the top options to enjoy a tropical honeymoon is Turks & Caicos, which is a British Overseas Territory made up of 40 cays and islands.
Particularly in Providenciales, Turks & Caicos offers a little bit of everything. It's a luxurious location with some of the world's top dining establishments, a wide selection of shopping destinations with designer labels throughout, and gorgeous beaches with white sand and blue water.
Are you excited to spend a romantic honeymoon on Turks & Caicos? You'll get to experience a world where cocktails are served well before noon and you can spend entire afternoons out on the water.
However, a perfect honeymoon requires the right accommodations. When you're looking for a space for yourself and your new spouse, five Turks and Caicos honeymoon villas rise above the others in terms of amenities, qualities, and extras to ensure the ultimate retreat.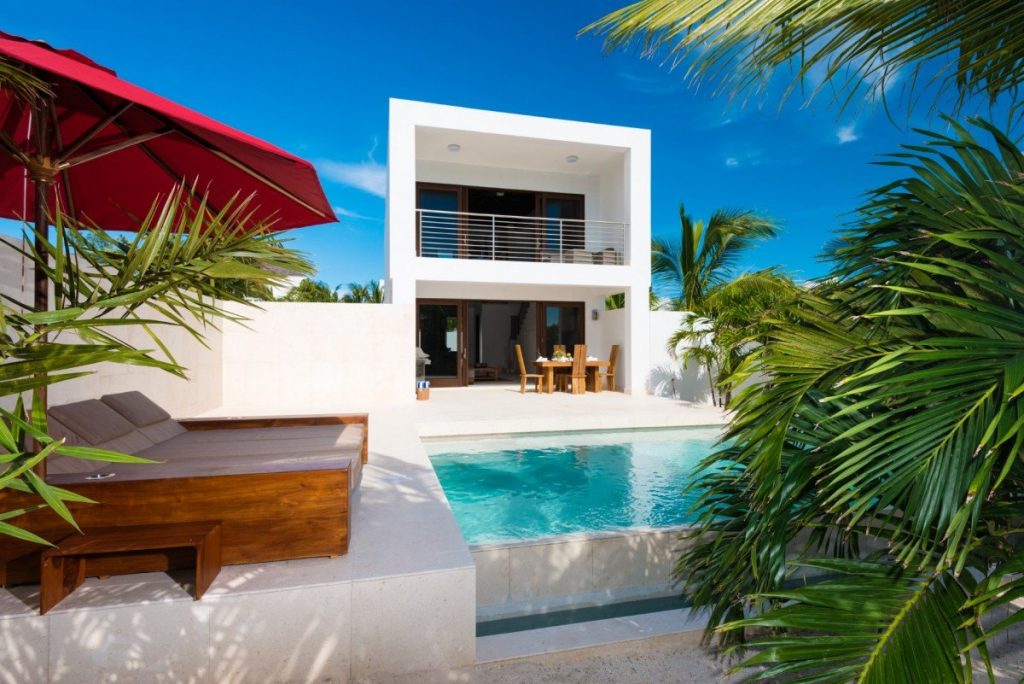 Located on the northern coast of central Turks & Caicos, Sugar Kube is a villa designed for romantic honeymoon celebrations. It offers two stories of amenities and entertainment and is a short walk away from the shore, as well as shopping and restaurant destinations. The villa also comes with housekeeping seven days a week so you can genuinely enjoy every moment of your time there.
The bedroom at Sugar Kube is aesthetically pleasing and comes with a luxurious bed, a covered balcony, and even a plunge tub for two. Guests will have access to a premium entertainment system and can spend time on the rooftop terrace to look out over the island and enjoy some of the most stunning views possible.
This villa has a contemporary style and offers extras like an infinity-edge pool in a perfectly square shape, a full-size sunbed, and a verandah with a barbeque and alfresco dining furniture. The interior is just as beautiful with white marble floors, high ceilings, and touches of wood to add beauty to the surroundings.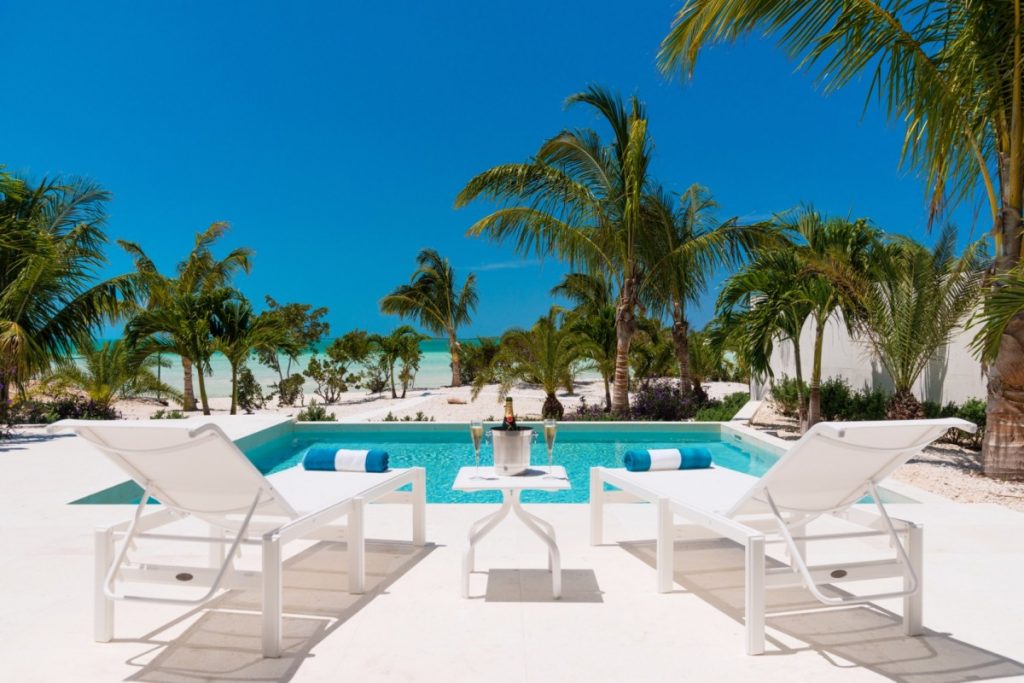 Another fantastic choice for a romantic honeymoon is located on the sands of Taylor Bay Beach. Villa Sardinia is a private villa with a luxury bedroom, two bathrooms, and easy access to a furnished terrace, a pool, and all the fun of the ocean. Relaxation is easy in this villa since a pool person and housekeeper are provided to take care of the essentials.
This villa offers an outstanding view of the Caribbean at morning, noon, and night. Waking up each morning offers the sound of exotic birds and the view of the sunrise coming off the waves, while nighttime features stars shining off the water before you climb into bed.
Enjoy a fully equipped kitchen, tennis courts, and wireless Internet during your honeymoon stay. The villa also comes with a kayak and paddleboard if you want to dive deep into the water. Ideal for an adventuring couple, this villa will offer everything you want and things you would never have thought about.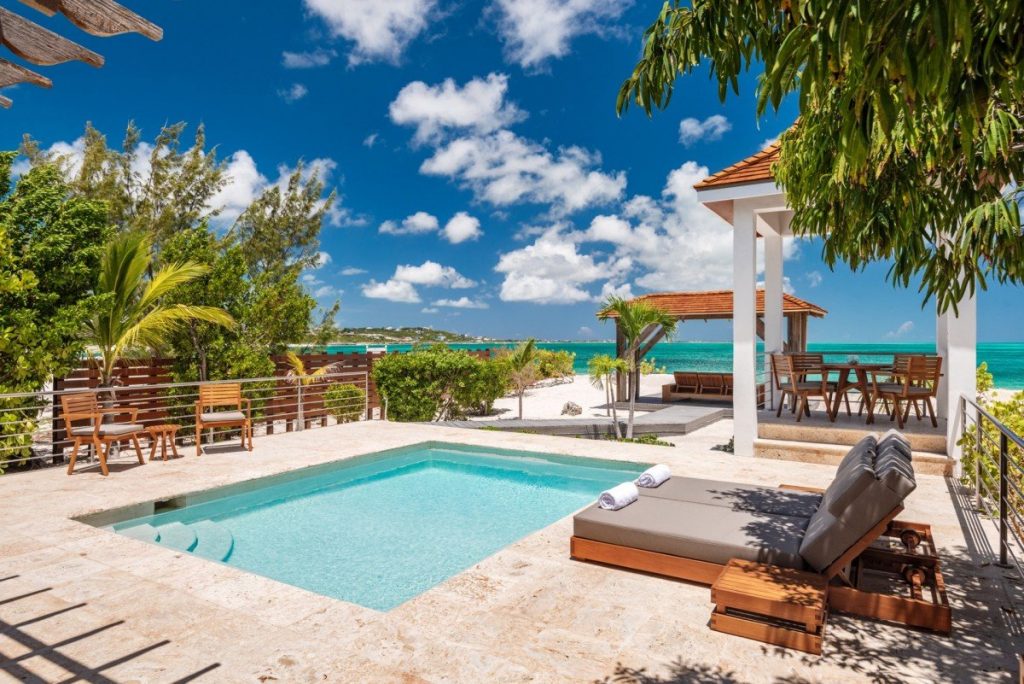 Villa Beach Shack is right on the water, but it doesn't resemble a shack in the slightest. This property is a one-bedroom villa located near the famous Turtle Cove. It's built of native stone and incorporates dark wood with modern furnishings for a honeymoon that's out of this world. It even comes with a private beach cabana for you and your spouse to enjoy.
The bedroom in Villa Beach Shack screams romance and has an elegant design. It offers a four-poster platform bed and opens up into a portico area of the terrace for views of the sea and the green gardens below. The ensuite bath has premium fixtures and dual vanities, while the open-air kitchen offers top appliances and garden access.
There's a private boardwalk ideal for romantic strolls at the villa or relaxation is provided through a large plunge pool inside of a stone terrace. This area features a comfortable sunbed for two and a secondary dining area just outside the French doors that take you inside.
Imagining a Turks & Caicos honeymoon where you wake up to the choice of enjoying coffee on a private balcony or being refreshed in a private pool? Villa Capri offers all those options and more with a location right by the water that promises romance and fun for every day of your trip. There are tennis courts nearby for exercise or you can take a boat to nearby islands to see the sights.
After a day enjoying the area, the villa comes with all the amenities you need to enjoy the area of your day. It includes cable televisions, a gourmet kitchen, laundry facilities, Internet access, and more. There's a terrace with sunbeds for reading or tanning and the beach features white sand and blue waters.
There's no need to lift a hand while at the villa since housekeeping and pool maintenance are provided to keep things comfortable and relaxing. The villa is a luxury destination featuring peaked wood ceilings, marble floors, and everything else to ensure a honeymoon that you will never forget.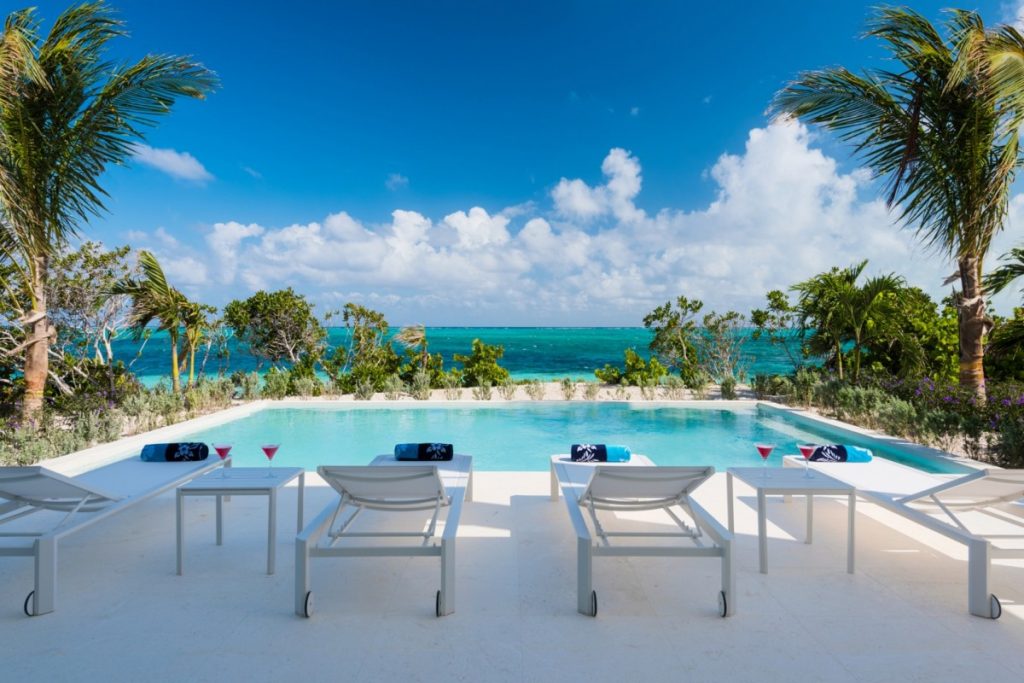 The final of the five best Turks and Caicos honeymoon villas is none other than Villa Sandcastle. It's a luxury resort location where you can enjoy surfing, swimming, scuba diving, snorkeling, or time on a boat so you can enjoy the ocean however you prefer. It comes with two bedrooms with ensuite bathrooms so you can live large during your trip.
Truly live like a celebrity with a suite of staff to meet your needs, including concierge, pool maintenance, and housekeepers. Whatever you want to see on the islands can be arranged so you can make the memories you want. After swimming with turtles in the coral formations, you can relax in the villa with stylish décor and rich furnishings.
While you'll want to enjoy romantic walks along Grace Bay Beach, the villa offers much more. There's a private pool, cable television, and Internet access so you can enjoy every moment of your stay. Soak up the sun, tour the nearby attractions, and spend time with your new spouse in a tropical destination.
Turks & Caicos is the ultimate destination for a honeymoon and these five villas go above and beyond to ensure your trip is never forgotten. Now all that's left for you to do is comparing each of the options and deciding which one is right for you.
Comments
comments