Turks & Caicos is one of the top tropical vacation spots and an incredible destination for people of all ages. The islands feature gorgeous turquoise water, beautiful white sand beaches, and a marine environment unlike any other location on earth. Visitors can enjoy swimming, sunbathing, watersports, and local cuisine when spending time on Providenciales or the other islands.
But when it comes to a luxury vacation, accommodations matter. Having a place for rest and relaxation with quality amenities and extras can take a vacation from great to extraordinary and offer memories that last a lifetime. Rather than forcing you to search through hundreds of Turks and Caicos villas for the most exceptional offerings, five of the top choices are below.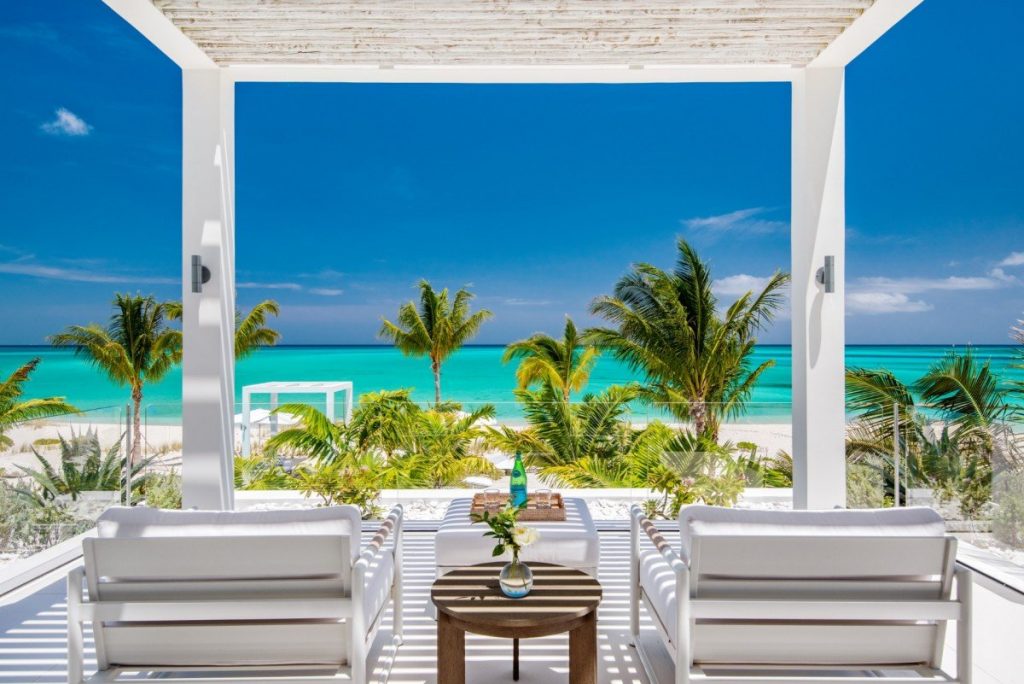 This gorgeous villa is located on the Emerald Point Peninsula in Leeward. It offers five bedrooms on a full acre of beachfront for a group of families or friends can enjoy every second of vacation. The villa offers beautiful views, high ceilings, and glass sliding doors that lead to a 1,600 square foot pool and the ocean beyond. The villa has almost 8,000 square feet of space inside and 12,000 square feet of furnished bliss to enjoy.
Some of the things that make Villa Emerald Pavillion stand out are the Burmese teak floating staircase, the dry cut Caicos Stone details walls, the porcelain flooring, and the lighting details. Each of the bedrooms comes with blackout shades for days when you want to sleep in, as well as one of a kind art and bespoke items.
While staying in this villa, guests have access to a thirty-foot dock with a lift, a gym with a Peloton, Stair Master, and treadmill, and a parking courtyard with covered pergolas. There are also special retreat programs that combine healthy plant-based food and juice with meditation, yoga, and breathing to get you into a vacation mood.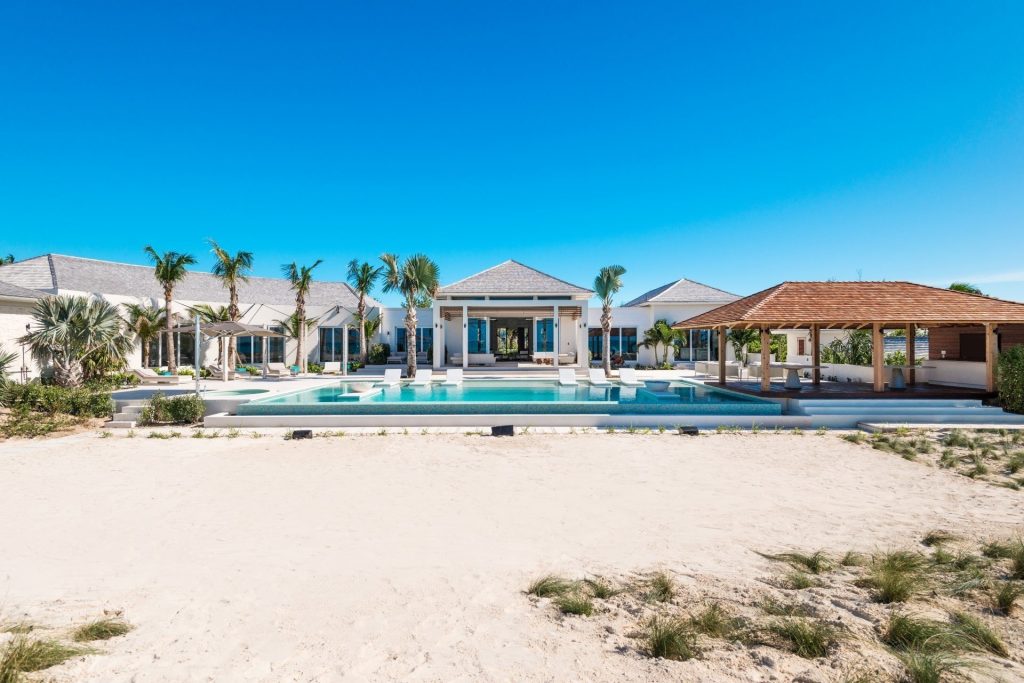 Located right on Grace Bay, Villa Sentosa is right next to the ocean. The villa boasts a housekeeper, butler, chef, and a groundskeeper so you can relax and enjoy the sights and sounds of Turks & Caicos. Guests at the villa will have access to daily breakfast, the beach, and Seven Stars Resort, as well as pool and drink service, grocery shopping, and laundry services.
This villa has eight bedrooms with ensuite bathrooms and can accommodate up to 16 guests. The outdoor area has cabanas, palm trees, a dining space, and a hot tub. There's also a beach deck where guests can enjoy the water using the provided paddleboards and kayaks. The fire pit is an exceptional place for drinks at night or the covered terrace will keep you nice and cool.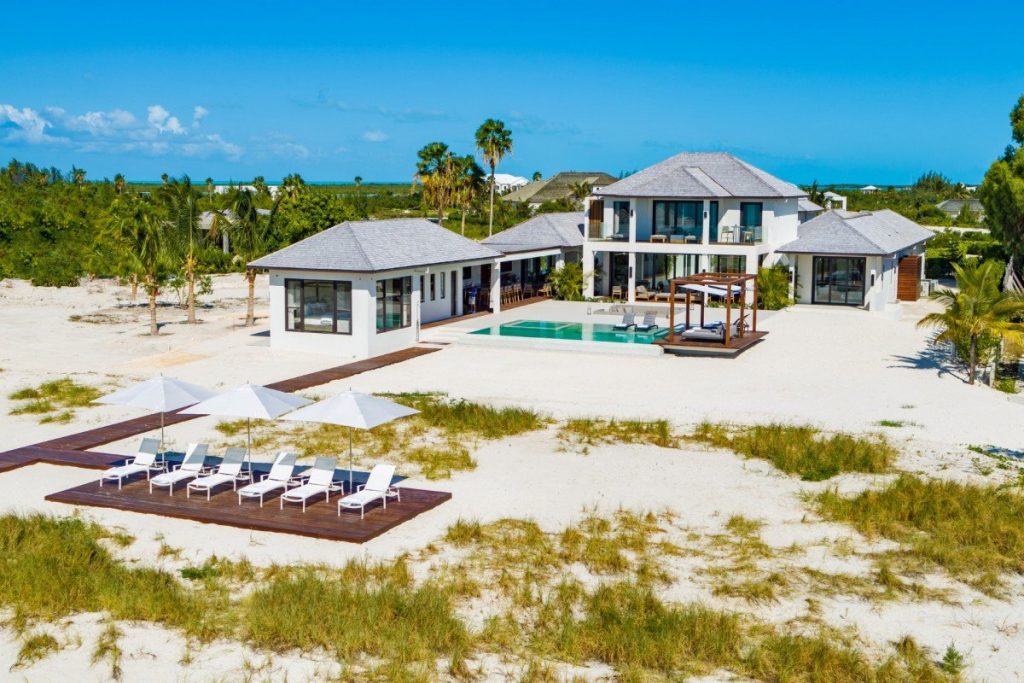 Villa Vision Beach is a five-bedroom villa with a chef, butler, and all the amenities needed for a rejuvenating vacation. The interior offers a great room with a banquette sofa, a large professional kitchen, and a dining area for all the guests. There's also a media room with a home theater and a formal entrance with many interior spaces to make use of.
The pool terrace is the shining feature of this villa and comes with a sun deck with submerged lounges and a pavilion with lounges. The area between the terrace and beach has a second sun deck so a large group can enjoy the sunshine and water of Turks & Caicos together. At night, the sunken lounge offers a fire pit that is the perfect location for gazing at stars.
Each of the bedrooms in this villa has brilliant views and access to a balcony or terrace. Two of the rooms are family-sized with large bunk beds and either a single king bed or two queen beds. Everything needed for your vacation is right here, waiting for you to show up.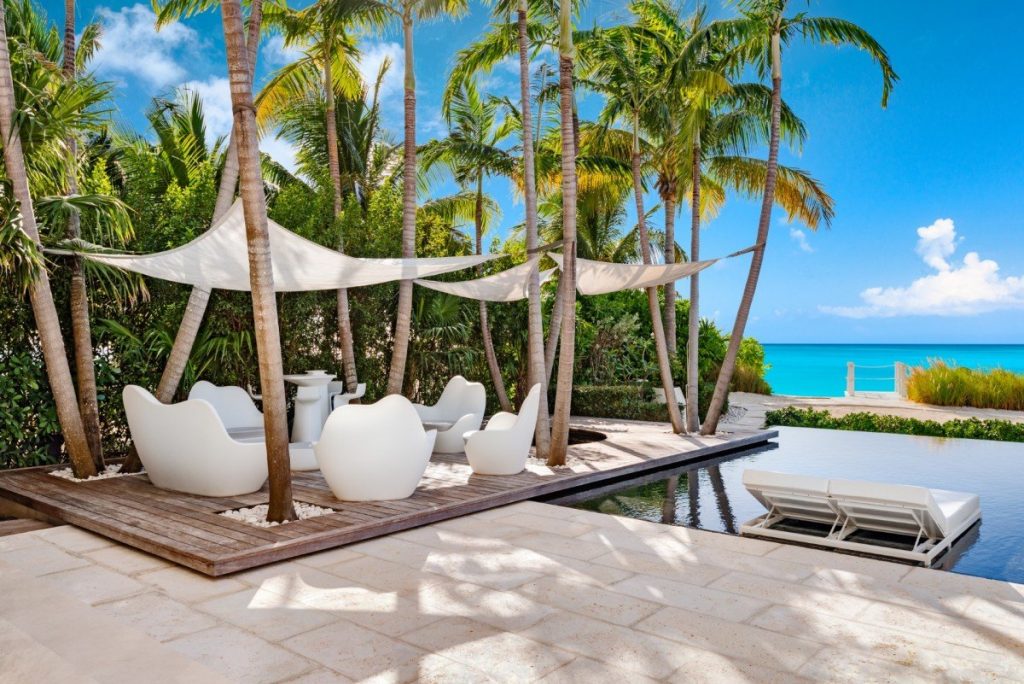 The Villa AWA incorporates a balance of indoor and outdoor living spaces with everything from palm trees to a glistening pool along with the nearby ocean and a vast terrace. There are several different covered lounges with comfortable furniture for socializing, bird watching, or relaxing under the sun. Inside there are two lounges, a formal dining room, a full kitchen, and a game and entertainment room.
This villa has six bedrooms that are set up for privacy with modern amenities to ensure a great vacation. Each bedroom has its own bathroom, one of which has direct access to the pool. All the suites on the upper level have a private terrace and an outdoor shower to make use of. The home is also fully staffed with a housekeeper, butler, chef, and a beach attendant.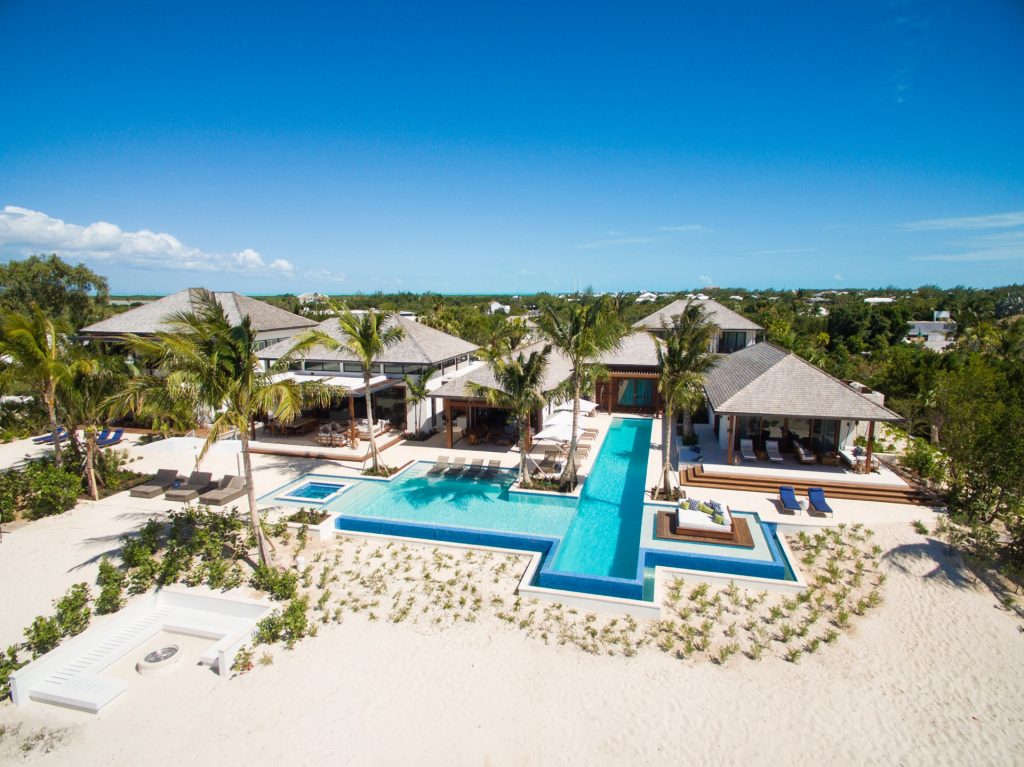 With eight bedrooms, a butler, a cook, and a housekeeper, Villa Hawksbill offers all the comforts and luxuries you could want in Turks & Caicos. The master suite comes with an indoor/outdoor shower, access to a terrace, and an entertainment system. There are rooms for kids and teens, as well as a guest house with additional sleeping space.
This villa is located on Grace Bay Beach and offers easy access for swimming and sunbathing. It has a location ideal for taking in the scenery and enjoying the trade winds that blow in every day. This is an estate with various amenities such as a lap pool with a jacuzzi, tennis courts, alfresco dining, a fire pit, and an outdoor lounge.
Created as a set of pavilions, the sharing living spaces are many and let you enjoy the feel of the outdoors even when inside. The great room has dark wood ceilings, a massive dining table, and banquet sofas that will fit a crowd. There's also a game room where younger guests can have fun and an open-air kitchen perfect for group meals.
Now that you know five of the most luxurious Turks and Caicos villas, you can narrow down your options to the perfect one for your group. Once you have booked the perfect spot, you can enjoy the sun and sand with a group of friends and family without worrying about anything associated with day to day life.
Comments
comments