The winter season has begun, and it has many of the world's travelers thinking of places to escape the cold, surround themselves with natural beauty, and indulge in a few luxuries along the way. Those who visit the all-new Coral Pavilion will find all of that, and more. The stunning and elegant, five-bedroom luxury villa is located along the white sands of one of the world's most beautiful beaches – the Grace Bay Beach on far western end of Providenciales in Turks & Caicos.
With its orientation towards the west, you can be sure that each day is graced with a stunning sunset view. Because the designers of this impeccable property have placed an emphasis on its location, guests will be able to savor the scenery from an array of premiere outdoor living spaces, as well as from the comfort of the stunning interiors of this luxury villa rental.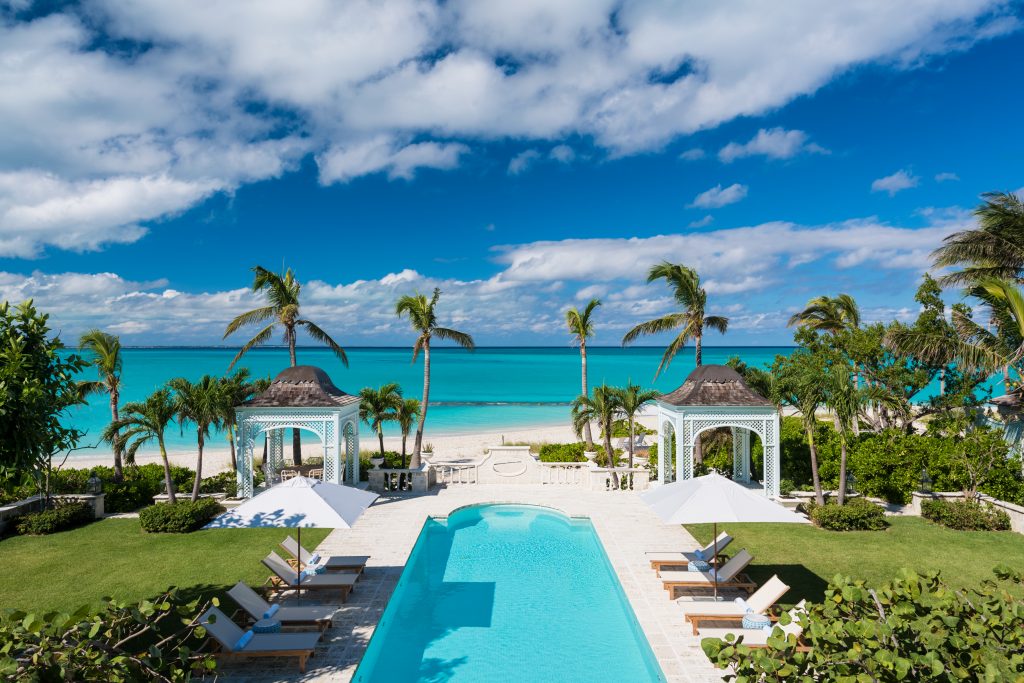 Close to Town…a World All Its Own
While this enchanting coral stone villa is only five minutes from the heart of Grace Bay, along with all of its world-class shopping and dining, it has been created as a comprehensive retreat. Estate-like in appearance and layout, this luxury villa also features a full household staff to help guests enjoy every minute of their rejuvenating visit.
From the butler and host who welcomes visitors, serves cocktails and meals, and tends to all of the guests' needs to the private chef to prepare three meals daily, as well as a personal concierge to help with travel or entertainment and a full grounds and housekeeping team…no need is left unmet. An onsite cottage houses the household staff, and ensures that visitors enjoy round the clock attention and service at this luxury villa rental.
And while there is a long list of amenities on the premises, visitors are also welcome to visit the nearby Seven Stars Resort to enjoy the full use of its state-of-the-art gym and fitness facilities, its amazing shopping, its excellent restaurants, and its many amenities. Will that be necessary? One look at the gorgeous gardens and grounds may leave visitors wondering if they will even set foot off the grounds of this luxury villa. Just steps to the sands and featuring a beautifully landscaped 120-foot beachfront, it is also home to a massive pool terrace that will quickly become a preferred gathering space.
It is just one of several al fresco spaces that were so carefully and lovingly designed into the classic two-story luxury villa.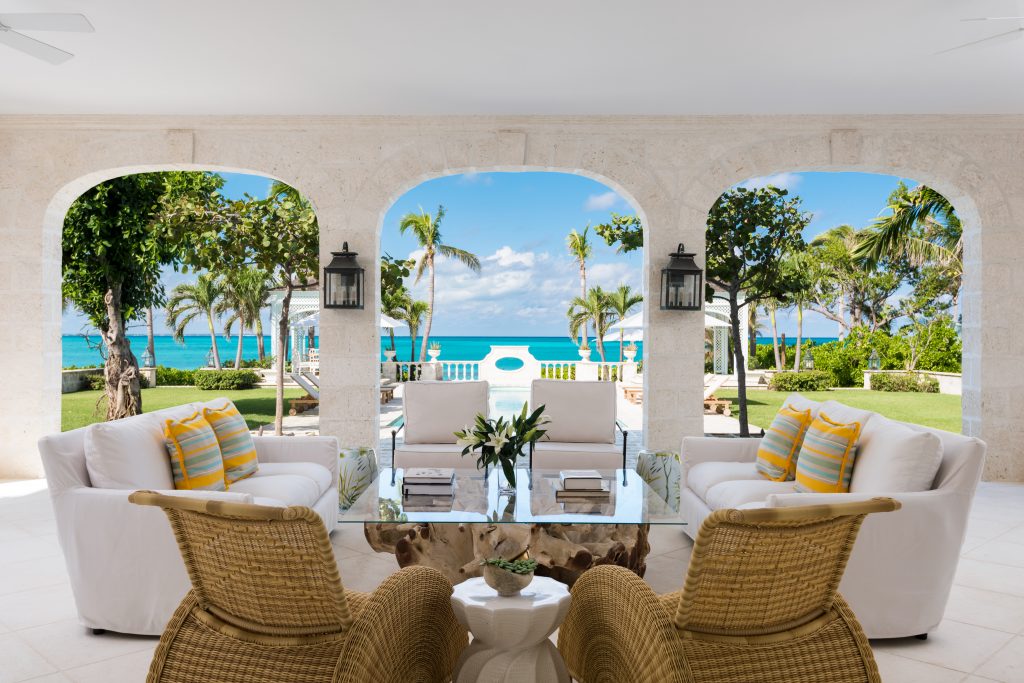 Inspired Design Makes for an Unforgettable Setting
Inspired by Oliver Messel, a favorite of the British aristocracy, this natural coral stone beauty sits elegantly and organically in its lush surrounding of mature palms and manicured gardens. The pool terrace is a series of spaces that start out on the sands where a lovely, private area is mapped out by oversized lounges. Follow the path back from the beach and the classic design of the twin gazebos (both furnished for dining and lounging) lets travelers know what to expect from the rest of the property.
The graceful and elegant stretch of swimming pool is capped with a rounded stair at each end. Flanked on two sides by sun decks, it features a small army of stylish wooden lounges. They lead to the terrace just outside of the luxury villa's stunning verandah. With its arches and columns as well as the two wings of the house framing the space, it is authentically beautiful and esthetically pleasing.
Here, in the cool shade, visitors can relax on the oversized designer sofas and chairs while savoring the sea breezes and sunset views. Inside this luxury villa rental are several other lounging areas, including a media room with banquette that opens directly to the lawns. The Bajan inspired architecture is a mirror of many properties found in Barbados, and yet the interiors are a blend of modern, transitional, and classic Colonial décor. A pale palette creates a soothing atmosphere in every room and whether it is the formal dining suite, the casual living room, or the amazing gourmet kitchen, visitors cannot help but feel entirely relaxed.
All of the rooms direct the gaze back to the scenery, and the design of the windows and doors serve as idyllic frames for those show stopping views just outside at all times.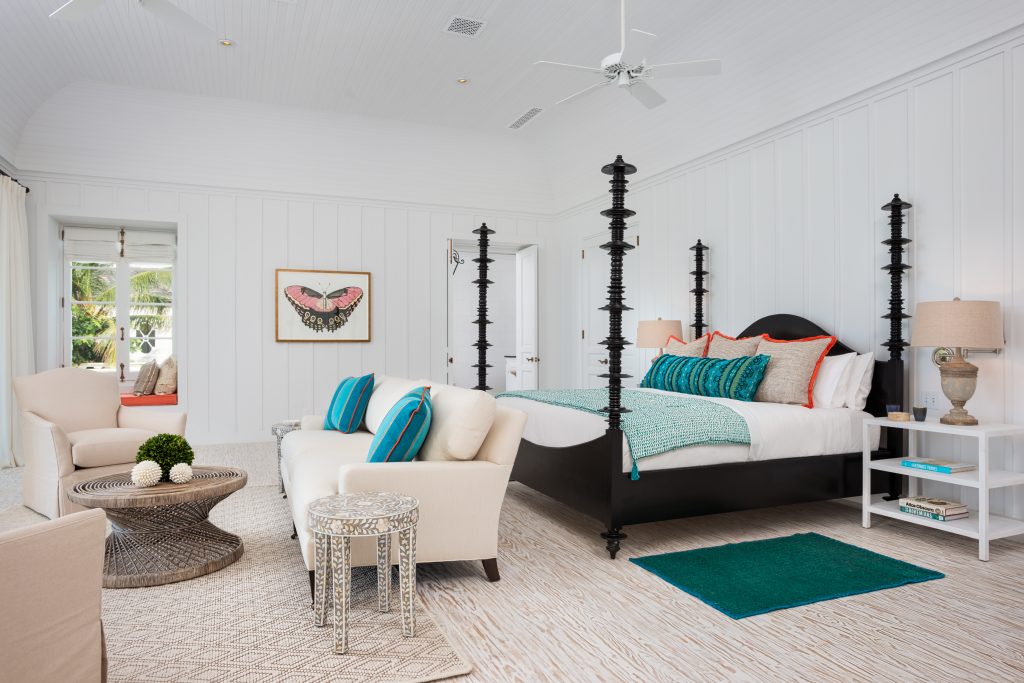 Bedrooms as Retreats
The entire property has been designed with care and attention to detail, and that includes the five luxurious bedrooms.
The master suite lives up to that title as it is comprised of the entire upper floor. This means it is a 1500 square foot space that is accessible via a private staircase. It includes a large sleeping chamber with a king bed, as well as a private study, a dressing room, and an immense, covered terrace with its own dining and lounging areas. The private bath offers a luxuriously deep plunge tub as well as a shower, and it is furnished with the latest in entertainment equipment.
The remaining suites of this luxury villa are all on the ground floor and feature the same advanced electronics along with opulent private baths stocked with Molten Brown amenities. The bedrooms are all king-sized suites with private garden or terrace areas and stunning views.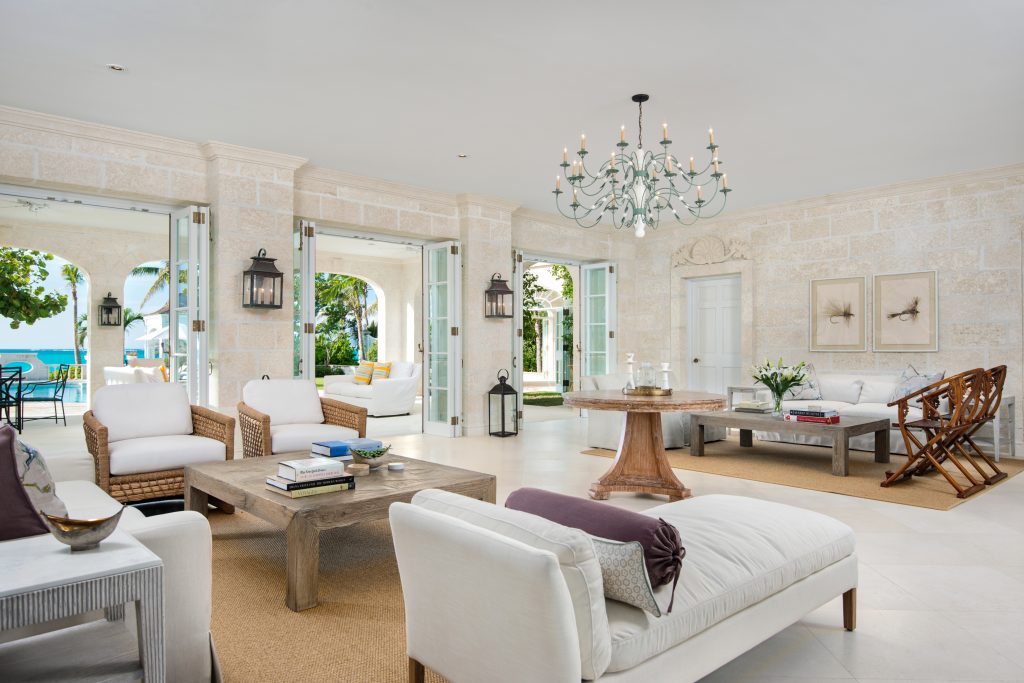 The Perfect Spot to Recharge and Renew
For the large group or family eager to get away from it all and enjoy the very finest that Turks & Caicos has to offer, the Coral Pavilion is a dream come true. Offering a staggering number of services and amenities on and offsite, including yoga lessons on the premises, full access to the Seven Stars resort-with its premium fitness and wellness facilities and shopping and dining, VIP airport transfers, and family-friendly services, it is sure to satisfy.
Whether it is start off the New Year in a place of stunning luxury and beauty or to enjoy a late winter's break in one of the most beautiful places in the world, it has what is needed. Ideal for an intimate destination event, it will become your new favorite destination in Turks & Caicos and bring you back again and again to savor endless delights of this luxury villa rental.
Comments
comments