Apart from the picture-postcard beauty of almost every area of Greece, why is it that so many honeymooning couples head there for their first married getaway? There are many reasons and answers for this, including its options for luxury rentals sized just for two and providing the kind of quiet Greece honeymoon many couples desire. There is also the fact that Greece has amazing year-round weather and lots of remote beaches for private hours of fun in the sun. There are lots of little towns and villages with opportunities to "pause to drink and dine at picturesque harbors and tavernas, and visit marketplaces, museums, and historic sites that reveal four millennia of civilization."
Dining, exploring, and soaking up the sun…what else could you want from a honeymoon destination in the Greek islands? But then comes the big question of just where to go on a honeymoon in Greece.
Six Thousand Islands
Many do not realize that Greece has more than six thousand islands spread out through the Ionian and Aegean Seas (only around 227 are actually inhabited), but this means that island-hopping is also easily done during a Greece honeymoon or holiday. In fact, it is one of the most popular activities and why there are so many options for ferries and cruises.
Busiest in the months of July and August, couples that go to Greece for honeymoon, can feel as if they have entire islands to themselves if they visit during the late winter and early spring months.
There are, naturally, islands that are much more popular with honeymooning couples, including Santorini Greece, Mykonos, and Corfu, which are the best among others. Most honeymoon visitors will arrive in Athens and dedicate a few days to exploring this famous and historic spot and then hopping a ferry to their honeymoon Greece island destination. The ferry to Santorini is a popular trip for its scenic beauty and because it ends up in what is often called the best and most stunning of all of the islands of Greece. Santorini is easy to identify location where the whitewashed houses stand out against the sky, sea and island itself.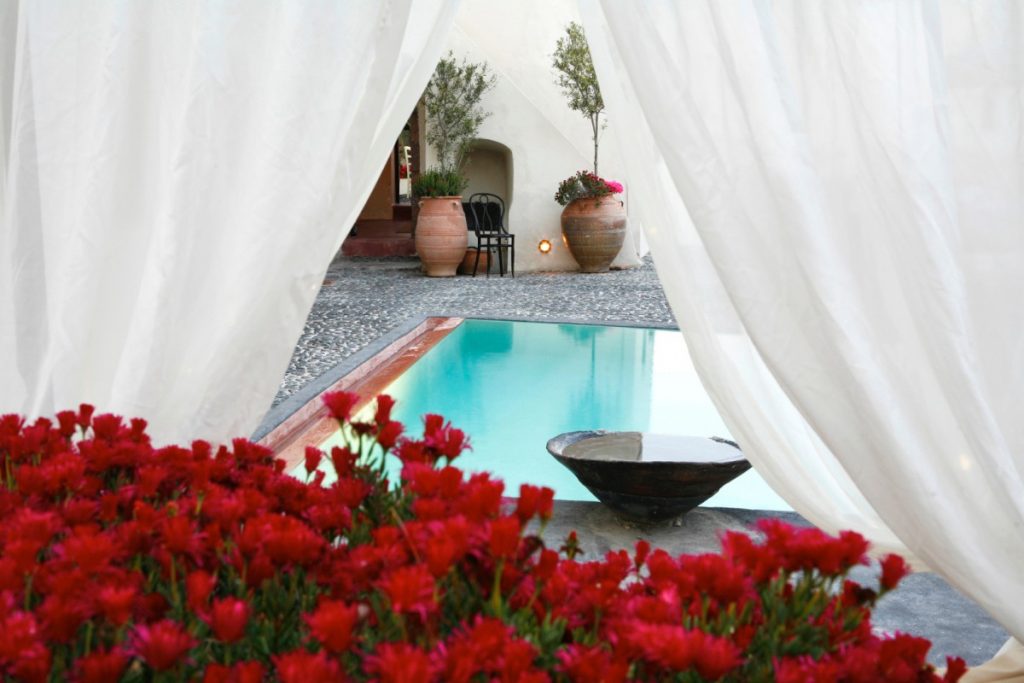 Villa Amygdalo
If Santorini's good looks, amazing dining and shopping, easy sightseeing, and easy transportation appeal, the Villa Amygdalo is a good option for couples coming for their honeymoon. A historic home once inhabited by a feudal landlord, it is just outside of the village of Santorini and provides a view of the Venetian bell towers. Yet, it is easily a romantic retreat with its walled courtyard offering curtained daybed, private plunge pool, and sun deck furnished with a hammock and lounges. Dine al fresco in the lush gardened courtyard area and savor the beautifully decorated interiors with their arched ceilings, classic furnishings, and the best romantic bedrooms.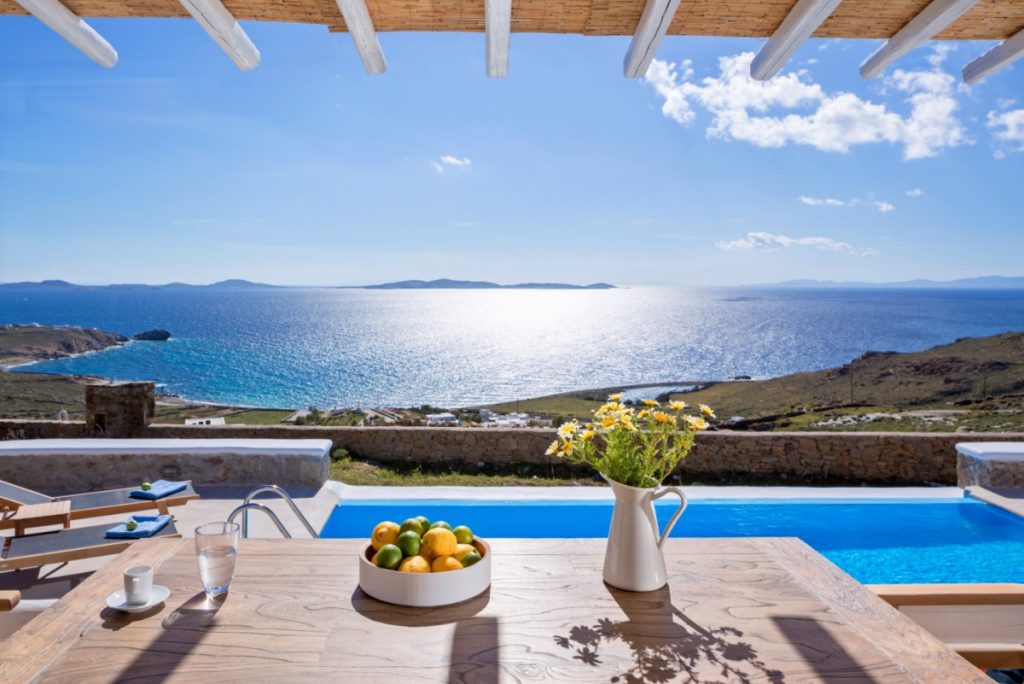 Villa Sparks
Perhaps you are more excited about beaches and nightlife during a honeymoon in Greece. If so, then the area of Mykonos is for you. As one expert said, despite "being known for its many clubs, pubs, and discos, this gorgeous island has a quieter side," which you can find if you wander the town in Mykonos with its charming cafes, homes, and windmills. The island is also known as Cat Island, and the furry felines are a common sight as you cycle, walk or explore the different parts of town.
On this island, it is the charming and spacious Villa Sparks that will offer the best of all worlds. Part of the Agios Stefanos area, it is close to town and yet a private world of its own. Just a ten-minute journey into town, it offers unimpeded views of the region. A multi-level home, it has that iconic Grecian look with its whitewashed exterior, only it is also modern in style with flat roof and squared lines. The use of natural stone softens the tone, and the property is a visual delight. There is a pool terrace, several balconies and decks, and lots of private spaces that offer constant glimpses of the sea and neighboring islands in the distance. A three-bedroom villa, it will easily become an idyllic retreat just minutes from the nightlife, shopping, dining, and sightseeing that brings so many couples to Mykonos for one of the most perfect honeymoon destinations.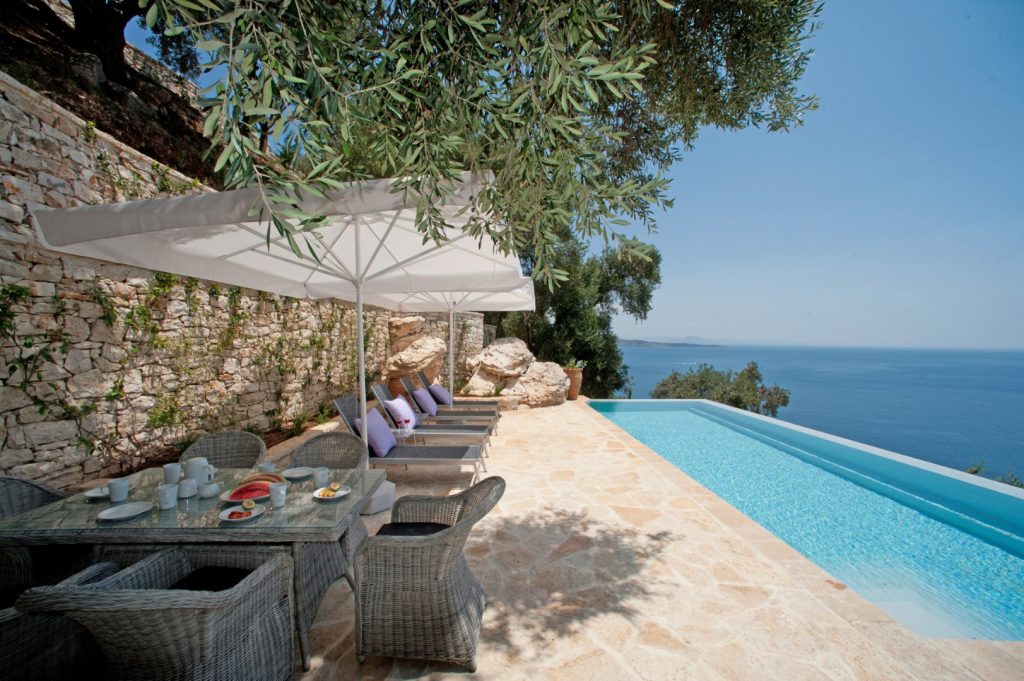 Villa Langdon
If you want a stand apart destination in Greece, Corfu is it. It is one of the few islands to have remained independent of the Ottoman Empire and it has a very unique appearance and culture. More Venetian in its overall feel, it is a remarkably cosmopolitan spot with lots of monuments, streets to wander, and the Aegean sea always nearby. You will feel the influence of Venice, France, and Britain as you wander, and there are wonderful museums and cultural institutions to explore during your honeymoons Greece.
The Old Town is a must and it is not far from the Villa Langdon, a two-bedroom gem ideal for a honeymoon in Greece.
This perfect hilltop villa gazes down at Agni Village and is tucked into a private olive grove to offer amazing privacy and non-stop scenery. Though only two bedrooms, it features an immense number of amenities that include the pool terrace with infinity-edge pool, the stone walls that ensure complete privacy, and many al fresco spots for dining and lounging. The interiors are done in an airy, romantic style that emphasizes cream and blush, making it a soothing space whether in the TV room, modern kitchen, or bedrooms.
Where else can you consider for a honeymoon in Greece? There are places like Crete and Naxos, and much quieter spots like Lesvos or Vatera. The options are popular and almost endless, but you do want to be within reach of a charming village or town to ensure you get out and experience a bit of authentic Greek culture during a stay. The islands all have their own unique character and charm, and the option to stay in a private and luxurious villa sized just for two is sure to help you create amazing memories.
Be sure to consider two and three-bedroom villas if they place you in the idyllic and perfect romantic spots along the coast or offer the courtyards, gardens, and romantic grounds that so many Greek villas feature. You'll enjoy the most romantic start to your married years with a honeymoon in Greece.
Comments
comments