Looking for the perfect honeymoon spot? We have you covered. Here is our take on honeymoon ideas and finding the best honeymoon places.
Best Honeymoon Destinations
With more than 20 island nations, the Caribbean region is a popular destination for travelers of all kinds, especially honeymooners. With its year-round good weather and its lovely views, it makes for the perfect spot to plan a "first adventure" as a married couple. Beaches, swaying palms, star-filled night skies, romantic sunrise and sunset views, delicious food…it all adds up to an idyllic choice for a honeymoon or romantic retreat. Best of all, the weather is ideal in the Caribbean during the prime wedding months of May, June and July with temperatures in the high 80s with gentle breezes and evenings in the mid 70s.
Our Recommended Honeymoon Destinations:
1. St Barts
2. Turks & Caicos
3. St Martin
4. Barbados
5. Antigua
Best Honeymoon Places
After selecting a destination, the choice of accommodation is exceptionally important. Do you want a secluded spot or be a part of an active resort? Finding that perfect spot can be difficult. The good news is private villas have become the fastest growing and in demand niche for honeymoons. Villas provide the space, luxury and privacy that creates an ideal setting for a romantic getaway and celebrate your new life together. Best of all, villas offer a concierge service so arranging a couples massage, a private chef or maybe a private charter to Anguilla to beach hop some of the most beautiful beaches in the world.
Where are the best spots for honeymoons in the Caribbean? Below are five different island destinations along with the ideal honeymoon villa, and each is a private honeymoon villa full of luxuries, beautiful views, privacy and a great location.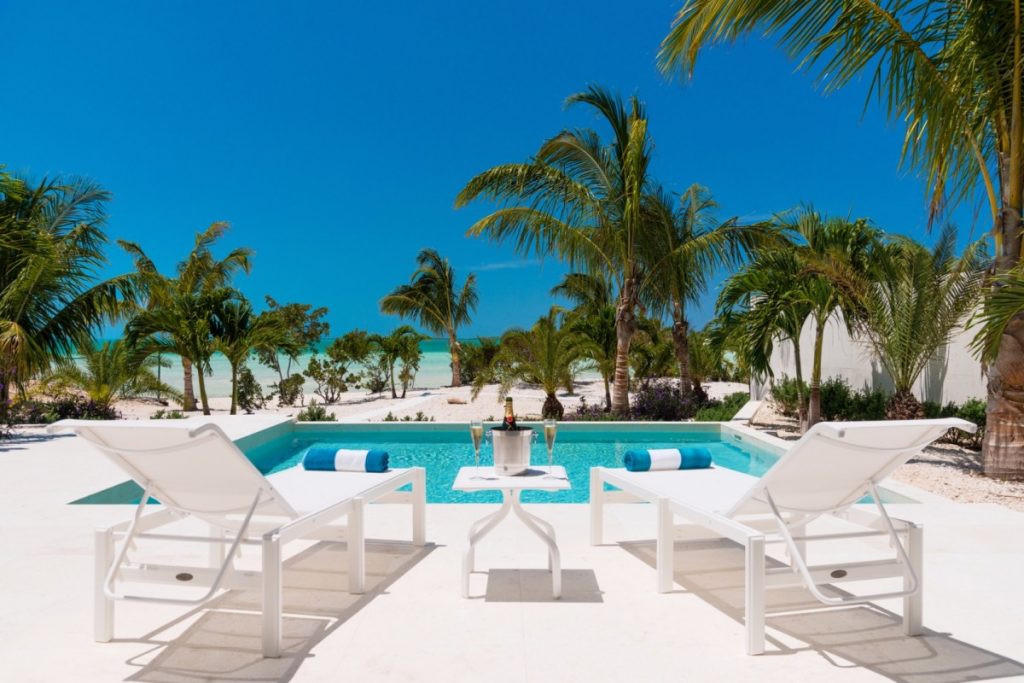 Located right on Taylor Bay Beach, it is an ultra-romantic getaway for two. A one-bedroom villa with iconic modern style, it features two floors of opulently designed interiors as well as a surprising array of amenities.
Start each day with a walk on the beach just a handful of steps from the terrace, or opt to take a swim in your luxurious private pool. With its elegant garden surround, sun deck and remarkable beach views, it will become a favorite spot to lounge. Sitting in the sun or beneath the shade of the verandah, it is the ultimate outdoor living space.
Step through the bank of enormous glass doors to the great room, and bask in beautifully designed interiors. The living room opens into the modern kitchen, and here you can enjoy the views as you make even a complex meal or simple snack.
Head upstairs to the elegant master bedroom suite where you can lounge on your private terrace, or savor those same sea views from the comfort of your enormous king bed. Just steps away is the massive soaking tub, also offering those amazing sea and beach views and guaranteeing an unforgettable honeymoon experience.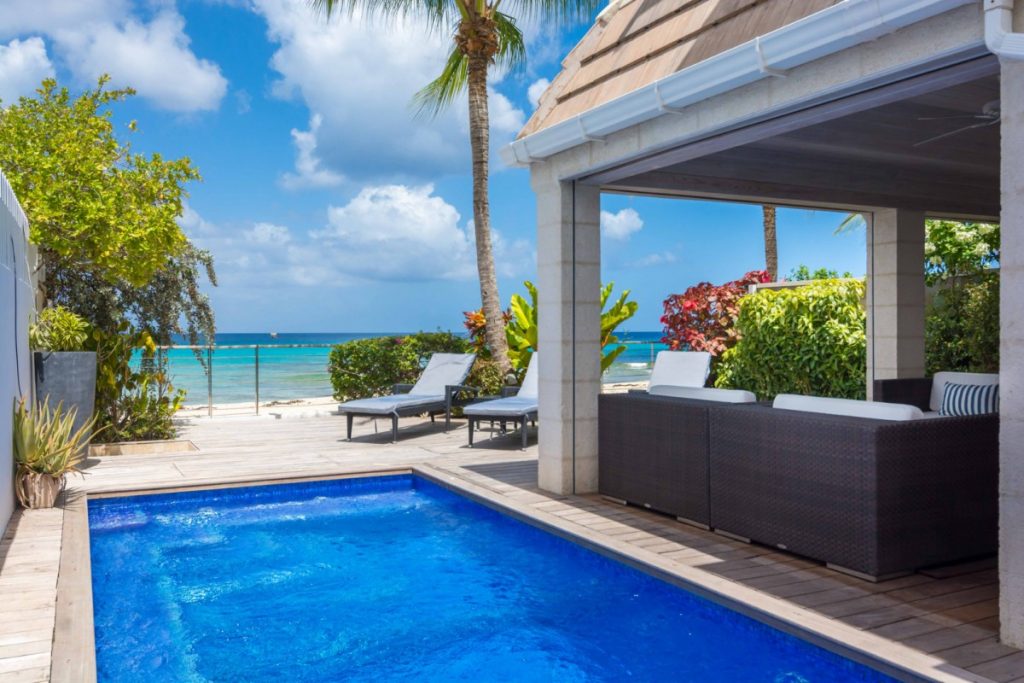 Barbados has become a tremendously popular destination in the Caribbean and this charming beach house is part of Fitts Village, which is situated in the St. James area of the island. Though sized for six, this amazing property can serve as your own island retreat.
Staffed with a chef and household team, it features an abundance of luxuries that include the oversized plunge pool on the deck, an alfresco dining and living area, an upper-level terrace overlooking the beach, a large sun deck, and more.
The lush interiors use native stone and wood and a classic island style of décor to create the most relaxed setting possible. Whether making a night of it on the terrace, watching a movie in the lounge, or savoring delicious chef-made meals in the gorgeous eat-in kitchen, it is sure to delight.
The king-sized master suite is an ultra-romantic hideaway for two. It features an upper level, covered verandah with beautiful modern décor, a massive ensuite bath, and non-stop scenery. It is like a private retreat that you will both adore from the moment you arrive.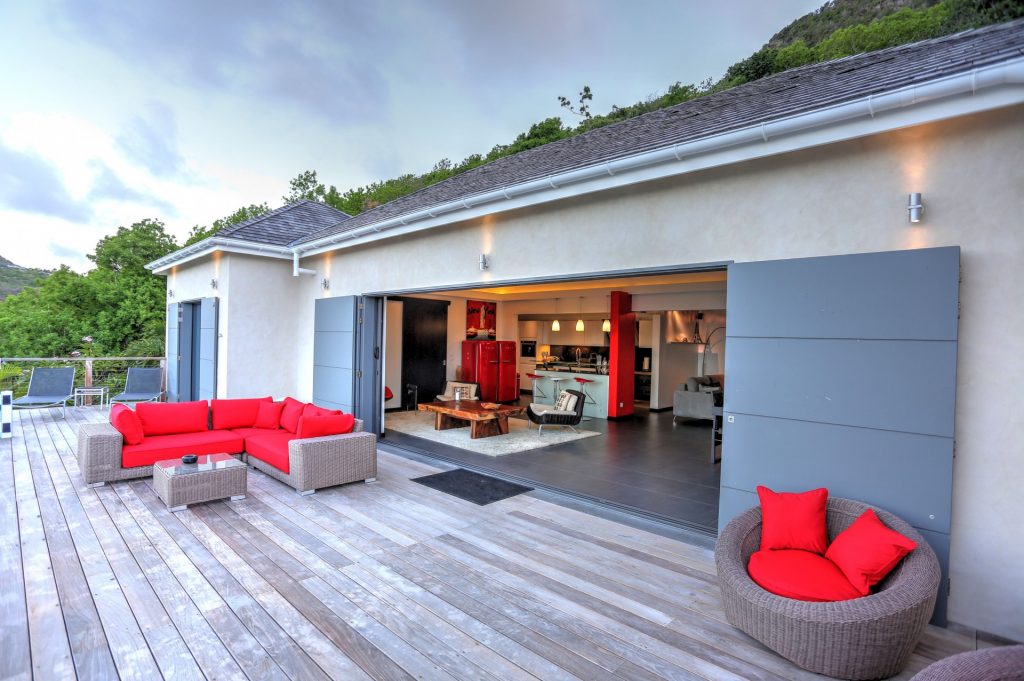 Those who love style and architecture will love this amazing three-bedroom gem that sits above Lorient Bay on the island of St. Barts. A coveted area of the island, this honeymoon villa manages to capture the views with its flawless layout and design.
The enormous wooden deck features al fresco lounging while also gazing out towards the lovely bay just below. There is an oversized, infinity-edge pool that also frames the views and is part of the picturesque deck. Boldly colored furnishings add to the fun and bright red upholstery works well with bursts of sea green, sky blue and cream inside and out.
Featuring a classic great room design, the main living area incorporates a large lounge and TV area, as well as a formal living and dining space. The modern and well-appointed kitchen guarantees many house of fun preparing island ingredients.
The master bedroom is a welcome hideaway with a beautifully designed layout that frames the views through the oversized doors. Using a Zen-like influence, it is a wonderfully relaxing space ideal for a honeymoon.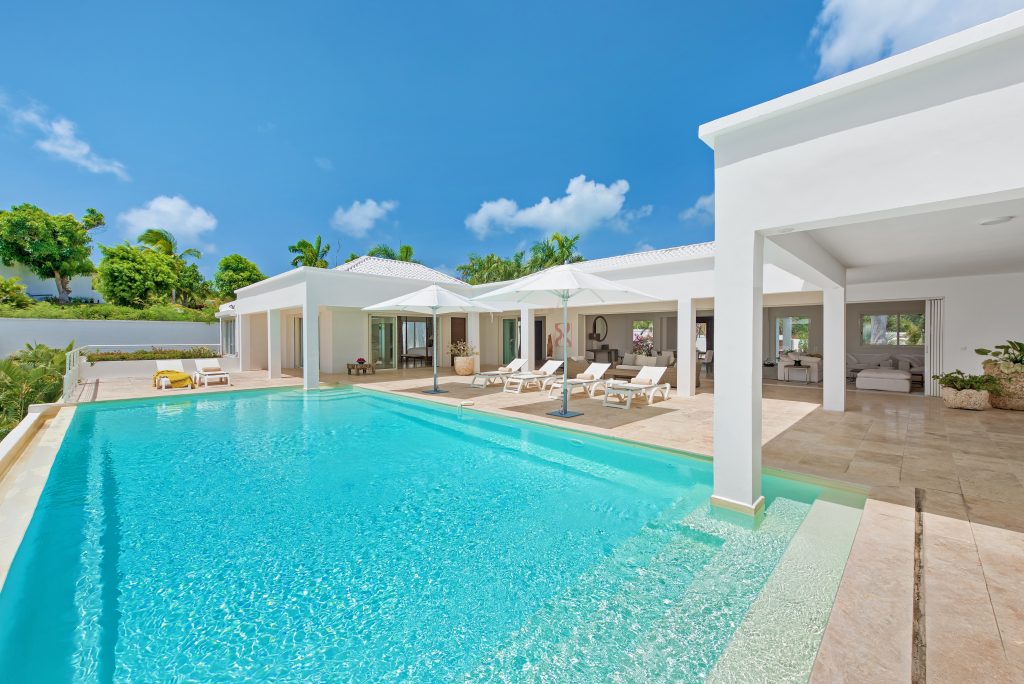 Set in the exclusive Terres Bases region of the island, this two-bedroom honeymoon villa is done in classic style sits atop a hill and offers gorgeous views, lots of privacy and the ultimate in an island escape.
Roomy (it is sized for four), it emphasizes outdoor living and offers up a wonderful array of open-air and covered spaces from which a honeymooning couple can catch the sea breezes, sunlight, star-filled night skies, and views of romantic swaying palms. A large stone terrace wraps three sides of the elongated, infinity-edge pool that gazes out towards sea views and lush gardens.
The terrace features a lovely sunny stone deck furnished with a bank of lounges. At one end is an alfresco living room tucked beneath the cool shade of the verandah, and the great room also opens directly to this wonderful space. It also opens to a rear garden, and its bright white palette and gracious interior design encourage only the most relaxing and casual hours of fun, frolic, and memory-making.
The master suite is an enchanted space with a private deck, large bath and views from three sides.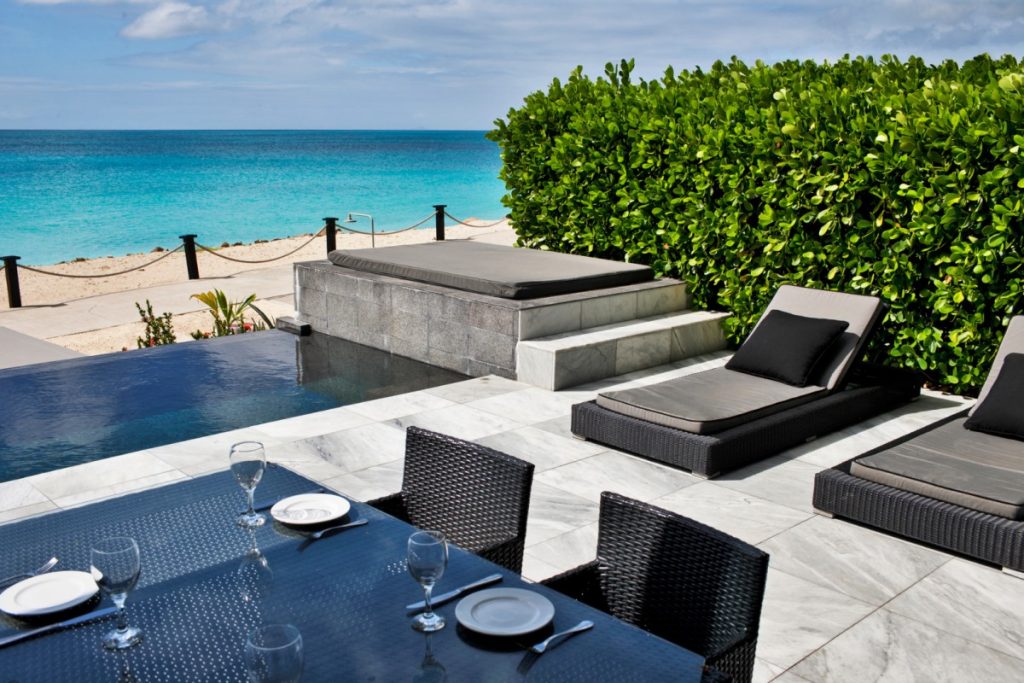 Sitting along the highly sought after western coast of Antigua, this three-bedroom villa is a waterfront gem with a short scenic walk to two incredible beaches: Ffryes Beach and Darkwood Beach. Though close to Jolly Harbour Marina, as well as English Harbour, honeymooners may never want to leave the grounds thanks to the many premium amenities.
An infinity-edge plunge pool and two-tiered sun deck with sunbeds and lounges, and a wonderful modern style that emphasizes slate grey and white make this a contemporary space, but one that welcomes visitors at every turn. The main living level features a great room with banks of glass doors and windows, and a smart and stylish modern kitchen.
The master suite is on the top floor with an enormous private deck, king bed, and stunning soaking tub for the most ultra-romantic retreat.
The Caribbean has loads of promise for honeymooners, and the villas recommended here are some of the choices to use when planning a honeymoon, romantic anniversary, or quick tropical getaway for two.
Comments
comments