How should I furnish my vacation home?
There is no arguing that the design and comfort level of your vacation home is directly proportional to your guest's happiness and satisfaction. For savvy villa owners, the key metric in determining achievement for your property are guest reviews. Whether we are talking a place for honeymoon villas, a family vacation, or luxury villas, the choice in furniture and décor is crucial to the overall success of your vacation rental.
While location and amenities are a huge part of the equation, if the guests feel uncomfortable when they would prefer to be lounging and relaxing, they won't return. They won't recommend the space, either, and so we have an array of top tips on how to furnish a family vacation rental or luxury villa rental.
Rule #1 – Skip the Fragile, the Antique, or the Easily Broken
Nothing says, "don't enjoy your stay!" more than rooms packed with precious objects, delicate seating, and costly goods. So, make your fundamental rule in the furniture and décor decision-making process: Buy Sturdy…ONLY Sturdy.
As we have said in the past, no glass tables or furniture as they are always the proverbial "ticking time bombs" that can shatter, break at the worst moment, and cause all kinds of injuries. Rentals, whether luxury villas or family retreats see every type of personality. Some guests may be careless and cause damage to an item, but it might be the next visitor who suffers the consequences. Skip any risks by skipping the old, fragile, or easily broken décor and furniture.
Also, as tempting as it might be if you have outdoor spaces or a beach theme, it is best to avoid things like wicker pieces. They too are fragile, tend to snag garments or even cause scratching injuries, and just don't withstand the use of luxury villas or family vacation rentals.
Go Neutral
It is tough to forgo lots of color if that is your preference, but remember that most family vacation rentals or luxury villas are meant to provide a balanced, spa-inspired feeling. You won't achieve this if the spaces are boldly colored full of over-stimulating hues and energy. You should start with base colors that are low-key and just add pops of color and pattern in small amounts. Think pillows, small framed art, throws, and so on.
And while luxury villas and family vacation rentals are often in beachfront, ocean or even tropical regions, it is best to limit your use of dark overbearing wood furniture the busier and tropically-inspired patterns on linens, curtains, and more. They can be hectic and overstimulating.
Where your choice of furnishings are concerned, also try to skip the dark overbearing wood furniture as it can add a very clunky and heavy feel to even a bright and airy room. Speaking of elegance…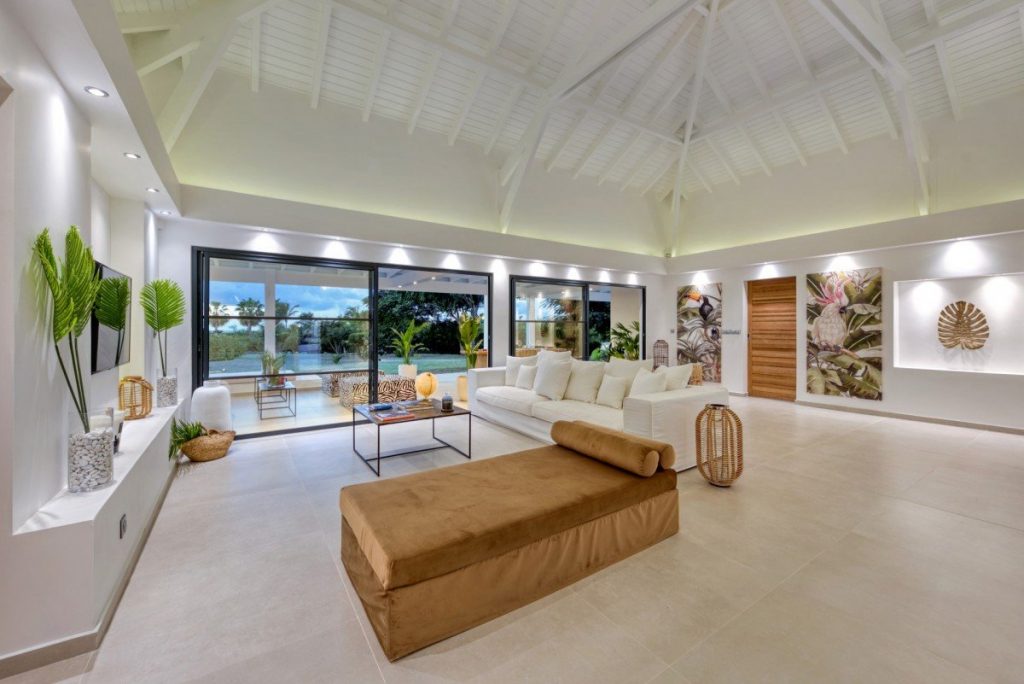 Go Elegant
Subscribe to a few regional interior design and architectural magazines or websites, and monitor the latest design and décor trends. Then, use what you learn to refresh the interior décor of the luxury villas or family vacation rentals in an elegant and "clean" style that reflects trends. Currently, geometric symmetry, simple and classic lines, and uncluttered spaces are wildly popular. Use them to inspire an overall theme, and stick to it.
And speaking of themes…
Focus on Continuity
When furnishing and decorating vacation rentals or luxury villas, one thing will win over your guests quickly, and that is continuity in design and décor. If the entry has a very distinct style, that is what you must use throughout the rest of the home. If there are color schemes in a few rooms, ensure they are adhered to throughout.
This does not mean the entire vacation rental has to be a series of rooms in one hue. They can complement and flow but never clash. If you are working with pale sage in one room, it has to flow into coordinating or complementary colors as you move to another room. The same has to apply to the furnishings and the décor. Don't use a retro style in the kitchen and a Colonial style in the living room.
And also pay attention to the continuity of the overall quality. It is jarring to move from a modern and updated living room to an out of date kitchen. Be sure you are keeping spaces as in sync with one another as possible.
Offer Comfort
Whether it is in the form of bedding, the type of sofas chosen, the style of the dining room chairs, or the lounges outside on the terrace, vacation rentals and luxury villas MUST have comfortable elements everywhere. You want guests to feel embraced and welcomed in every corner and that means every piece has to be comfortable enough for hours of use.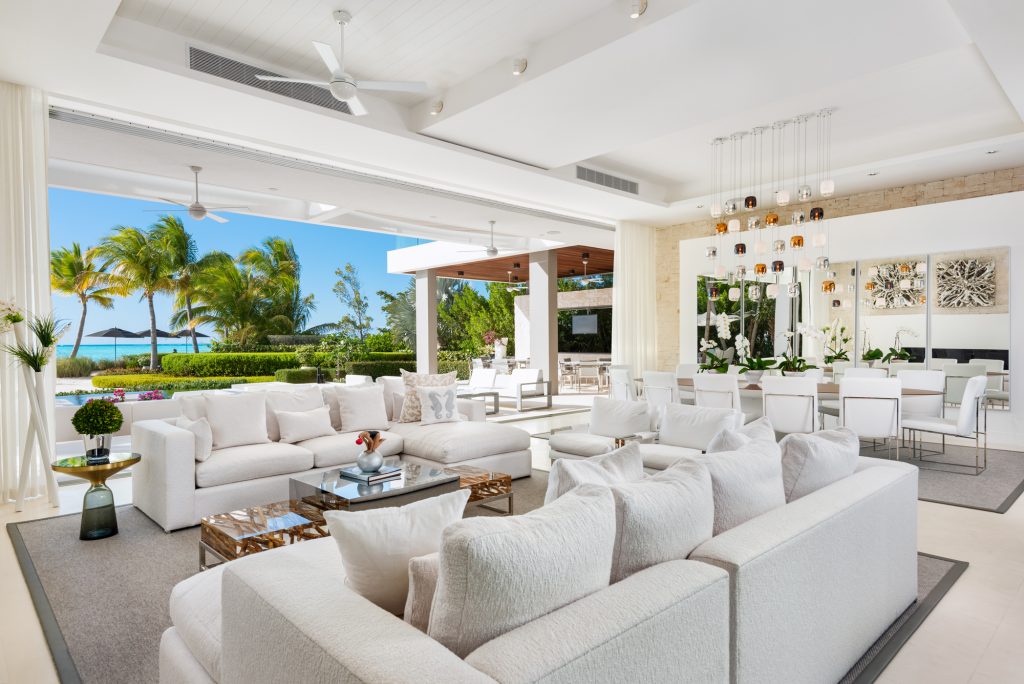 Uncluttered and Spacious
While your theme in luxury villas or luxury rentals might veer towards kitschy or quirky, never clutter the spaces. This includes visual space as well as actual living or floor space. No matter how large a room or area, make it welcoming and functional, but open and uncluttered. Limit the number of decorative items, choose furnishings that are roomy enough to work in smaller numbers (for example, oversized banquette sofas instead of a classic living room set), and so on.
Think Big
In line with the uncluttered and spacious is the idea of going large whenever you can. This includes things like dining tables, kitchen islands, tubs, appliances…whenever the scale of a room allows you to invest in a bigger piece, try to use that opportunity. It pays off by keeping the spaces functional and uncluttered while also delivering a larger amount of comfort. Larger scale furnishings in luxury villas or family vacation rentals also encourage socializing and gathering.
All-Around
One area of luxury villa furnishing that many overlook is the walls and the best advice here is to keep it as simple as possible. If you are going to use wall art, go big and bold (if that is in line with the theme) or skip it and use paneling and moldings to convey the theme, or mirrors to add light. Remember that soothing colors and upscale finishes can enhance the elegance factor and convey your theme just as easily as wall art or some sort of hangings. Remember too that anything on the walls will need dusting, cleaning and care, and also runs the risk of being knocked down accidentally.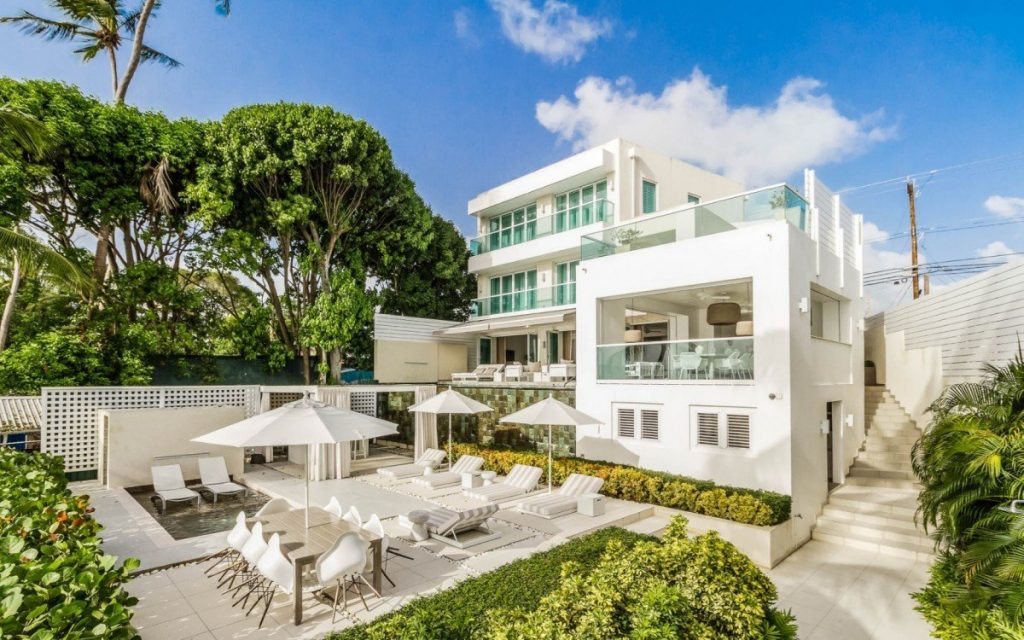 Look to the Outdoors
Finally, if you have any outdoor living spaces, it is wise to invest in the finest outdoor living furniture, accessories, and décor. We love Restoration Hardware for its inspiring and massive assortment of outdoor furnishings, décor, games, accessories, and more.
Don't let these tips discourage you from enjoying the opportunity to decorate luxury villas or family vacation rentals you currently own. Just keep your choices in line with the experts, and you'll enjoy lower maintenance, more repeat visitors, and lots of positive feedback from guests.
Comments
comments